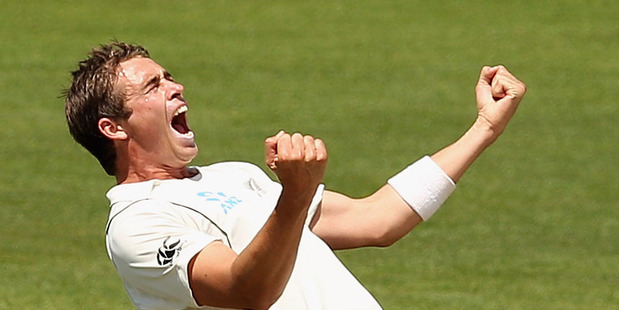 New Zealand's cricketers were defeated 4-1 in the one-day series and 2-0 in the Twenty20s by the West Indies, but APNZ's Daniel Richardson suggests five reasons why the Black Caps shouldn't be written off ahead of their two-test series against the Calypso Kings.
1. Tim Southee's re-emergence
Tim Southee finished the last home summer as a test-match discard after a poor display against South Africa in Dunedin but has been added to the test side after the injury concerns in the New Zealand camp. The right-armer swings the ball at pace and carries some solid form from the one-dayers after claiming 10 wickets in the five matches. His new-ball bowling could put his side on the front foot.
2. Kane Williamson
Williamson can play. His last test innings was a match-saving 102 against South Africa at the Basin Reserve in March.
He then joined Gloucestershire for a brief stint in English Country cricket where he made a couple of sparkling hundreds. He's only 21 and it's scary to think how good - and most importantly consistent - he can be.
3. Brendon McCullum is due to fire
It has been 20 months since Brendon McCullum made a test century, when he clocked 225 against India in Hyderabad in November, 2010. McCullum demands that he bats in the top three in test cricket because, well, quite simply he wants to do it. It's high time he started delivering on his desire to bat high in the order and this tour is just the place to do it.
4. It's only a two-test series
This means New Zealand has to win only one test then play for the draw - or perform a successful rain dance - in the second. That plan is fool proof. Two-test series are becoming increasingly common and reflect the smack, bang nature of international cricket but they mean a side needs only one genuinely good test match performance to potentially win a series.
5. Chris Martin
No, not the Coldplay frontman, but New Zealand's reliable right-arm pace spearhead. The likeable test specialist, who turns 38 in December, will bring his trademark work ethic to the West Indies and could trouble - as he has done throughout his career - the home side's left-handers, including the dangerous Chris Gayle.
He has the third-most test wickets by a Kiwi with 226 scalps from 68 matches and will provide a great foil for the attacking young seamers made up of Trent Boult, Doug Bracewell and Tim Southee.
Martin's batting is still as comically awful as ever but points must be given in his favour given his passion to often don a white headband while steaming in with the new ball in hot conditions.
- APNZ