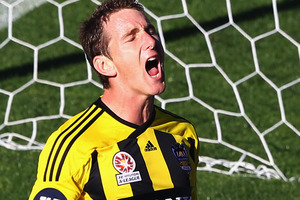 Rather than hang on to his playing days and watch his ability slowly leave him, Chris Greenacre can say he retired from professional football on the right note.
The 34-year-old confirmed today that he will make the transition from playing to being an assistant coaching for the Wellington Phoenix after inking a new two-year contract.
The Englishman will join goalkeeping mentor Jonathan Gould and supremo Ricki Herbert as part of the club's coaching ranks.
Stepping down from playing the game you have known your whole adult life is possibly the toughest decision any athlete can make, but Greenacre said he knew nearly 10 years ago that he would move in to coaching when his playing days eventually left him.
Too often players hold on to the idea that they have the ability to still foot it in the professional ranks and they have to watch themselves move further towards the end of the bench or aren't even called upon to suit up at all before they drift off in to the distance.
Greenacre though can look back on his final season of football with great pride.
He started all 29 games for the Phoenix as they made another trip to the playoffs last year and he logged huge minutes in a season where he was expected to tone down his playing commitments as he dabbled in coaching while he oversaw the attacking third of the pitch for the Wellington club.
He only found the back of the net five times and provided two assists but the former Manchester City striker worked tirelessly off the ball and he said that work ethic would be a feature of his coaching career.
"I'm not going to look back on my career with any regrets and I'm just looking forward to the future,'' he said.
"I was known to work hard on the field and I just want to put that same enthusiasm in to coaching.''
Greenacre said he wasn't pushed in to retiring by the Phoenix and noted he knocked back two offers to play for rival A-League clubs this season because coaching was a better long-term solution.
"Ricki and I had open discussions for quite a while [about my future] and it was just more of a `this is what we've got on offer for you, if you really want to take it, it's there for you'. And I really was like `oh, okay, this is something I've got to seriously think about' ... I don't want to sound arrogant, but I had had other options in the A-League and I could've probably chased the dollar for a couple of years. But at the end of the day the way I weighed it was the longevity of this job and part of my life is going to be hopefully the next 30 years and for the sake of chasing a few dollars here and there I think it's more important that I kind of cut it off and started that process of that chapter in my life.''
After beginning as an apprentice with Manchester City in 1995 he went on to play in the third and fourth tiers of English football for the likes of Cardiff City, Mansfield Town and Stoke City until 2005.
He joined League One outfit Tranmere Rovers on a free transfer in the summer of 2005 where he spent four years before coming to the Phoenix, who he made 84 appearances for in three seasons.
During his lengthy career he helped Mansfield Town earn promotion from League Two in the 2001-2002 season and also played in FA Cup ties against English football heavyweights Chelsea and Arsenal.
* Chris Greenacre facts
Age: 34
Born: Wakefield, England
Height: 1.80m
Playing position: Striker
Major teams played for: Manchester City, Cardiff City, Blackpool, Mansfield Town, Scarborough, Stoke City, Tranmere Rovers, Wellington Phoenix
Greenacre on why he thought about coaching: "I probably got to about 25 and I kind of thought I need to be looking to the future. I've not made enough money to be able to retire and go and play golf everyday, which I would've loved to have done.''
- APNZ