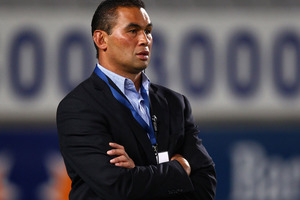 Sacked Blues coach Pat Lam has urged the franchise to support John Kirwan in an emotional final press conference today in which he said he had "taken the final hit".
Lam, who re-applied for the head coaching role despite it being advertised during a wretched season for him and his team, was close to tears as he looked back on his time with Auckland and the Blues. He has been involved with both for the past nine years, four with the Super Rugby team. He took the Blues to the playoffs once - last year.
Lam was told at 10am today by chief executive Andy Dalton and chairman Gary Whetton that former All Blacks wing Kirwan had been given the job.
Lam used a military analogy when talking of being on the front line for the Blues, but having succumbed to a final hit.
He urged the media to keep up the scrutiny on the franchise and the structure around Kirwan, which suggested he had been left exposed, but he refused to talk specifics.
"It's always a battle and if I look at it in terms of being in the trenches and war, I sort of feel in my time here I've been out in the front line. I've been out in the front line and taken shots left, right and centre and I sort of feel that this year in particular it's been the biggest war ever," he said.
"I didn't mind being out in the front and through all my time out there I protected this franchise, I protected the people in it, I protected the team, I protected the players. But it appears I've taken the final hit.
"The same panel gave me 87 per cent out of 100, which I was really proud of, last year, and I truly believe I'm a far better coach this year after what I've gone through. And more importantly I know that and the people that matter know that and that's what means more to me.
"I leave here with my head high and I just, again for JK, I want the board and Andy to give him everything he needs because, ultimately, this is my hometown, this is my team, no matter where I am in the world, no matter where I go, this is my team and I want it to be successful."
Lam said one of his highlights was how every player lined up to hug him following the final match of the season in the weekend - a resounding 30-16 win over the Brumbies in Canberra. He said some comments from captain Keven Mealamu were especially significant but he was reluctant to reveal them.
He also thanked the media, adding with a veiled message: "I want you guys to keep the scrutiny up to ensure the Blues are the best that they should be and they can be."
- APNZ