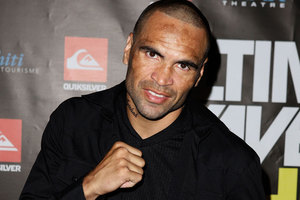 Anthony Mundine is confident he made a serious statement in Las Vegas yesterday as he chases a dream showdown with unbeaten superstar Floyd Mayweather jnr.
Mundine enjoyed a comprehensive technical knockout victory over veteran Bronco McKart in his first fight on American soil to become the IBF North American middleweight champion.
He then instantly turned his attention to the world's best pound-for-pound fighter, Mayweather, seeking out members of the 35-year-old's entourage to talk up his chances.
"[50 Cent] and the Money Team [Mayweather's entourage] came to watch me fight," Mundine said after the fight at the Palms Resort Casino in Las Vegas.
"As I was walking out we ran into [50 Cent] and he called me over. "I told him 'I've got mad respect for Floyd, he's the best, but hopefully I'll beat some of the fighters and we'll fight'. And he said 'yeah, we'll talk, we'll do business'."
Mayweather is serving an 87-day prison sentence for domestic abuse, but his father Floyd Mayweather snr appeared to dash any hopes Mundine had when he told the Australian he wasn't ready to fight his son.
Mayweather snr instead directed Mundine towards former WBA light middleweight champion Miguel Cotto.
"Cotto's not in the Floyd class. I think you'd better take Cotto, you'd be a better chance," Mayweather snr said in the ring afterwards.
- AAP