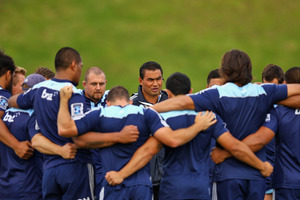 Two wins in a row. Oh no, the Blues are on fire leading to speculation Pat Lam might return as coach. This can't be happening.
The Blues produced their best rugby of the season against the Brumbies on Saturday evening. One try was nothing short of sensational. But who cares? Jake White's Brumbies were over-achievers and would have been wooden-spoon material in another coach's hands. The Blues' should beat those Brumbies.
A week earlier, the Blues beat the Western Force, who have one of the worst attacks ever as we saw again on Saturday night when their players went out of their way to run into Crusaders defenders.
The danger is that two late wins have obscured the depths to which Lam - who was all chipper after an employment interview last week - has taken the Blues. These irrelevant wins over the Force and Brumbies don't count unless you want them to. The question is: how much do the Famous Five want those results to count?
The Famous Five are Blues men Gary Whetton and Andy Dalton plus the New Zealand Rugby Union-appointed Graham Henry, Graham Mourie and Don Tricker. These are the men who interviewed Lam, who will decide his fate in picking the Blues coach.
Never let it be said that rugby won't form a committee, or instigate an inquiry.
What the heck is Mourie doing on the committee? He's from Taranaki.
Can you imagine Manchester United picking their new manager with a committee including someone from Everton? Mourie is often portrayed as a deep rugby thinker but with all due respect to the famed All Black captain, I found him a muddled and vague speaker in scant dealings. His results as a coach aren't all that spectacular.
Tricker is a softballer-turned-rugby employee from Wellington. What's he doing on the committee?
The biggest decision in Auckland rugby should not be made by someone from another code and another town. Stuff that.
If we need a softballer to help guide Auckland rugby, then choose Aucklander Eddie Kohlhase, who was a way better player than Tricker, played senior club rugby and has not been brainwashed in the rugby HQ bunker.
Graham Henry is close to Lam, according to those who should know. This ranks as a conflict of interest to my mind. Then we have chief executive Andy Dalton, who has been in charge of the Blues disaster.
These types of committees are often set up with a desired outcome in mind. Frames of reference are another killer.
This is why it was no surprise to find an Auckland Council-controlled committee, headed by career politician Don McKinnon, do somersaults to back Eden Park's position.
The city should have used someone like who-dares-wins promoter and ex-Kiwi league forward Dean Lonergan to run a scan over the city's stadiums and come up with a plan. And guess why the old boys network didn't do anything "radical" like that?
This Blues coaching selection committee is bigger than the list of candidates.
It is unwieldly and smacks of being designed to obscure accountability in reaching a desired outcome. It comes from the bowels of a system that got Auckland rugby into such trouble in the first place.
What Auckland rugby needs instead are decisive, independent and adventurous characters running rugby, not another branch of the Kremlin.
Lam has been coaching Auckland and the Blues for eight years, so how come the interview? Lam must go.
His coaching and selecting this year was abominable and his overall record poor. He doesn't have what it takes. If there isn't a candidate up to the mark, keep searching and cajole the right man into coming.
I'm placing what's left of my faith in Blues chairman Whetton, believe it or not, because there isn't anyone else to have faith in.
A notoriously unpopular figure, Whetton won't care what anybody else thinks. It's his name over the door. He played a lot more games for Auckland than the rest of them, a lot more.
When I grew up revering the blue and white hoops, Auckland rugby ran Auckland rugby.
They were great old days, one way or other, before the Kremlin took over New Zealand rugby with its insidious ways. Auckland supporters took the good with the bad, for better or worse, and were more than happy with that.
Not so anymore. So the system is giving Lam every chance at a second chance.
I cheered and winced at the same time as the Blues dealt to the Brumbies, without really knowing who I was even cheering and wincing for.