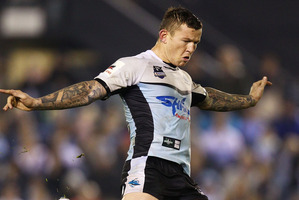 You will never please all coaches when it comes to rule changes as there are varied opinions on how the game should be played, refereed and administered. The latest controversy is the golden point rule.
It was introduced when some coaches pushed quite strongly for a change - as they wanted a result and this was the preferred option at the time to secure the valuable two points at the end of 80 minutes if the game was drawn. Having witnessed the tension of golden point wins, I acknowledge the excitement of the winning teams and their fans is worth the nervousness, but feel for the other side.
To lose the game in what can only be described as a dropped goal frenzy is farcical.
Once it's determined that extra time is required, rugby league ethos is abandoned for the rugby union style of positioning, enabling the dropped goal attempts. Golden point has disintegrated into a rabble. The attacking strength of the code is thrown out the window.
The referees change their view on how the game is to be played in this period and game plans are nowhere to be seen.
Maybe coaches need to instil in their teams a plan when it comes to golden point - but instead they are declaring a revision or scrapping of golden point is needed.
What can be done to improve golden point? Some are suggesting a golden try variation and no field goals - but you can't have field goals in normal time and not have them when extra time is required.
There is talk of wanting no golden point at all and even suggestions of having "drop offs".
Drop offs are what happens in touch football when there is a draw after normal time where a player from each side comes off the field after a certain time which creates more space on the field to defend. This continues until a try is scored. Perhaps going back to five minutes or 10 minutes each way of extra time is an option, but broadcasters may opt for five minutes only due to scheduling.
It is the coaches who sway the administrators, so it will be interesting to gauge the reaction of the new Commission over this issue. I did not fancy the golden point concept initially; I was a believer in a point for each team for a draw as tradition ruled my thoughts.
However I've been entertained with the theatrics of golden point because I am a sports lover. But if I was playing or coaching in this environment, I would detest the concept and complain as loud as I could.
I have no desire to see golden point go but those who pursued the issue should look deeper into the outcomes before campaigning.
Be careful what you wish for. You may get more than you want.