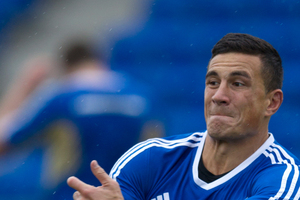 Sonny Bill Williams' new Japanese club has begun househunting for its new star player.
The Panasonic Wild Knights team manager said SBW had requested a three-bedroom unit with a big living room, providing plenty of room for his off-again, on-again girlfriend Aleisha Berryman to join him.
Seigo Ikeda said there were high hopes that Williams could trigger a rugby revolution in Japan.
"More people will get interested in rugby and have a dream to be like that and start playing rugby," Ikeda said.
Williams accepted a reported $1 million deal over 12 games from August to January. He is likely to live close to the Wild Knights clubrooms in Ota-shi, a modern city 80km north-west of Tokyo.
Ikeda said the biggest challenge for Williams would probably be the language. "He will try to study Japanese. I think he will try to adapt to the team and the culture quick."
But the first challenge was finding somewhere to live.
"We're trying to get a house now. Because they're different from New Zealand houses. We're trying to get a three-bedroom unit with a big living room, but it's hard to find."
Williams reportedly seeks out the best Japanese restaurants wherever his freewheeling career takes him, and the sushi lover won't have to look far in Ota city. The finest bluefin tuna costs $96 a piece.
Ikeda said SBW was a regular in Japanese sports news, but there was nothing like the media frenzy around him in New Zealand. Most news in Japanese media revolved around speculation on the value of Williams' contract.
Ikeda said there was excitement at the prospect of Williams boosting interest in rugby before the 2019 World Cup in Japan.
Sport Research Group chief executive Simon Arkwright said SBW was perhaps the only current player who was "bigger than the game" and had the ability to grow rugby. "He's not necessarily loved by all the people who currently love the game. But his profile and bigger-than-life presence means he attracts people to the game."
Whether Williams would make the Japanese rugby-mad depended, in part, on his ability to spark as much hostility as adulation.
"Part of the reason he got such a high profile here [in New Zealand] is he was a divisive character," Arkwright said. "All the negatives that related to him here actually helped build his profile and build the Sonny Bill kind of circus."
LOST IN TRANSLATION
"Nihongo ga yoku hanasemasen" - I can't speak Japanese very well.
"Butaniku wa dame desu" - I don't eat pork.
"Auckland made ikura desu ka?" - How much is a ticket to Auckland?
"Okane ryogae dekimasu ka?" - Can you change money for me?