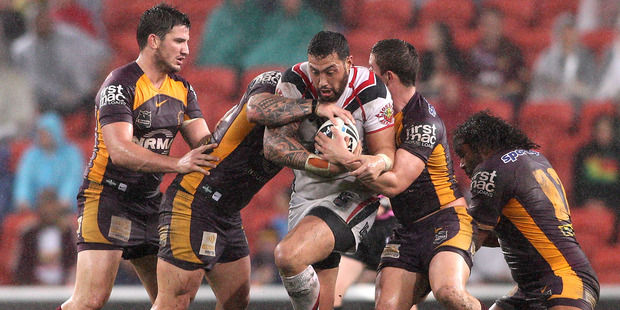 Of all the Warriors' defeats this season - and there have now been nine - perhaps Friday night's is the mostgalling.
There have been other frustrating falls, notably against the Tigers (round 11) and Sharks (round 15), but none where the Warriors have played so well and still come up short.
In Brisbane, they held firm defensively, keeping their line intact for 73 minutes following an early Broncos try; they weathered immense pressure in the first 20 minutes of the second spell, where they were virtually unable to get out of their own half; and then came home strongest in the last 15 minutes, forcing several good chances without being able to apply the finishing touch.
"We are very disappointed," coach Brian McClennan told the Herald on Sunday. "We should have won and it is an opportunity lost. Looking at the match, I'm positive about what we can become but very disappointed with the outcome."
The Warriors were defensively resolute (conceding less than 10 points for just the second time this season).
The Auckland side completed eight more sets than their opposites, spurning several good tryscoring opportunities.
"I thought we had more tries in us," said McClennan. "That was probably the difference. We had some good chances and didn't take them."
The term 'season-defining' is perhaps over used but a win on Friday would have been. Two points would have cemented their place in the top eight and represented their first success on the road against a genuine contender (previous away victories have been against the Eels, Panthers and Titans). It would have also been a massive boost to confidence and belief.
There were certainly chances. James Maloney (0/3) had a rare off night with his goalkicking and during a crucial period late in the second half both halves failed to come up with good attacking fifth tackle options on three consecutive occasions.
Maloney was struggling for accuracy overall but the effort was there - on more than one occasion the 1.76m, 83kg half took hit ups out of his own territory - while Shaun Johnson had a quiet night. Nathan Friend's mistimed pass to Ben Matulino near the line in the dying minutes was unfortunate (the hooker had been one of the best on the field) and on several occasions Feleti Mateo poked his head through the defensive line but no one was backing up.
"We are capable, more than capable," said McClennan, "but we have some learning to do. We need to work harder off the ball in attack and they did that better than us. [On Friday night] We needed all 17 players playing somewhere near their best but that is not what we got."
Overall it was hard to fault the commitment on display. Sideline commentator Darren Lockyer even compared it to a State of Origin battle during the second half.
"Brisbane are constantly talked of as a top four side and we stayed with them," said McClennan.
"We matched them every step."
Captain Simon Mannering was a towering presence, making 45 tackles despite the effects of flu that saw him physically sick after the match. Friend (47 tackles) was another mighty defensive presence while Ben Matulino carried for 166 metres on attack.
Manu Vatuvei was outstanding in defusing several Brisbane bombs in the greasy conditions, though his lapse from a kick-off (where he strayed in front of kicker Maloney) led to the team conceding a vital two points. The 'Beast' spent the last quarter at right centre (Lewis Brown switched to lock to give Elijah Taylor a break), a move that McClennan hinted may be seen again this season.
The nagging feeling remains that with all guns blazing and their steadily improving defence this Warriors outfit could be a good September team - and one that most others would definitely want to avoid - but they may not get a chance to show it. Time and available points are running out.
Costly losses, like Friday's, mean the best the Warriors can hope for is probably seventh or eighth and with the new playoff system it is an extremely hard road to glory from there.
The Warriors host the Knights next Saturday night before tough trips to Manly and Townsville, bookended by the Sharks' visit to Auckland in round 22.