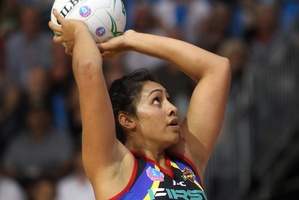 Even coming from Noeline Taurua, it seems a surprising admission.
The Magic coach says that last week's thrilling win over the Thunderbirds was the first time in five years of the ANZ Championship that her side was able to pull a match out of the fire against red-hot opponents.
Taurua is known for her unpredictable comments but it is a frank revelation from the veteran coach.
"We have never, against anybody, been down, been held and then come out on top in the last two minutes," Taurua said. "I thought they had the wood on us. We were fighting hard for a long time and they weren't giving it up."
The Magic trailed for almost all the match, taking the lead only in the last minute after a crucial turnover.
"Usually we have been on the other end [of the result] and we have never been able to pull it back.
It is a really good sign that we were able to do that against a team that was on."
It was nerve-wracking for their fans but the manner of the victory was probably perfect for the team. They were already full of momentum and belief, after disposing of the Thunderbirds, Mystics and Firebirds in consecutive weeks.
Now they have proven they can win in clutch situations.
"We took so much pride out of that result," says Taurua. "It solidifies us as a team but also keeps our feet on the ground because it was such a close call."
Meanwhile, while much of the attacking focus will be on the big three of Maria Tutaia, Cathrine Latu and Irene van Dyk, Magic goal attack Julianna Naoupu has a pivotal role to play in tomorrow's contest.
Naoupu has come of age in 2012, after a promising debut season for the Magic last year. She shot 21 of 23 in last week's major semifinal and chimed in with nine crucial assists for van Dyk. Across the season, she has 296 goals at 76.3 per cent, 85 assists and 252 centre pass receives (second to Madison Browne of the Vixens).
"She has been 120 per cent better," says Taurua. "There have been huge improvements in her conditioning and work off the court. She has worked hard on her shot and her game sense and it is showing in the product out on court."
Naoupu has become a great foil for van Dyk. Her ability to shoot from distance, tie up defenders and get free both inside and outside the circle has helped take the pressure off van Dyk; opposing teams are unable to double-team the South African.
"Julianna is tough to mark," says Mystics defender Charlotte Kight. "She is unpredictable with how she moves and passes and they are a very effective shooting combination now."
Naoupu faded badly at the back end of last season but seems better equipped to prosper this time.
She is fitter, more confident and more focused - mental skills sessions with the Ferns psychologist have helped.
"I'm much more consistent," says Naoupu. "My job is to shoot well, be a playmaker and draw defenders away; [Irene van Dyk] gets hammered by defenders and I'm here to help her as much as I can. Let's wait and see what happens on Monday night but I'm confident if we do what we have been doing, we will win."