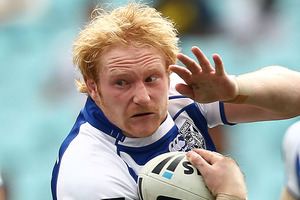 He arrived in Australia with the reputation of being the world's best prop and has established himself as an elite NRL player - yet hasn't started a single game.
James Graham has redefined the term "super-sub" at the Bulldogs, churning out some exceptional numbers without ever seeing a kick-off.
The red-headed Englishman has slipped under the radar somewhat after his high-profile switch from Super League, largely thanks to the breakout performances of giant Kiwi teammate Sam "Dogzilla" Kasiano.
While Kasiano's hot form and the busy efforts of Aiden Tolman have kept Graham in an unfamiliar interchange role in all of his 16 games, his numbers off the Bulldogs bench make powerful reading.
Before last night's clash with the Eels, he averaged 55.9 minutes per game, high for a big man, with a regular output of 15.5 runs, 122m and 32.3 tackles.
That ranks the former St Helens star third among the NRL's props for tackles, seventh for runs and 10th for metres. His last effort against Wests Tigers would have done Paul Gallen proud: 60 minutes, 24 runs, 207m and 33 tackles.
While Kasiano and another Kiwi Frank Pritchard provide the flair, Graham - the 2008 Man of Steel winner as Super League's best player - offers a massive work-rate of high quality. His arrival has helped the Bulldogs drastically increase their yardage. Last season they ranked 13th for metres gained, this season they rate fifth.
"I'm doing okay, but I can definitely improve in a lot of areas," Graham said. "It's been a while since I've come off the bench, but I'm more than happy to be part of this team, do my job and try to work hard when I'm out there.
"That's the situation, I'm more than happy to keep doing it for the team."
Graham carried big expectations when he signed a three-year deal with the Bulldogs. While he was under pressure to live up to his billing, he reckons that was nothing new after playing for one of Super League's biggest clubs and the England test team.
"There's always pressure. When I was back home there was pressure to perform, when I moved out here there was pressure to perform," he said. "Whether you're a veteran of the game or just starting out, there's always that internal pressure on yourself to perform.
"No one wants to fail. I've always had pressure on me throughout my career. It's probably a little bit different coming over here, but it wasn't something I wasn't used to, that's for sure."
While Graham's efforts have put him in the NRL's elite class alongside fellow Englishmen Sam Burgess and Gareth Ellis, he insists he still has plenty more to deliver in the Australian competition. "People use words like 'cut it' or 'make it' - I still think I've got a fair bit to prove. Hopefully I can continue working hard, work on my game and improve myself."
Graham has revelled under dual premiership coach Des Hasler, who describes his import as a model professional.
He has also enjoyed working with the deft hands of Kasiano and Pritchard, whom Hasler has employed as plus-sized ball-players with devastating effect.
"Those two are outstanding," he said. "Sammy's just in his second year of first-grade, he's taken the bull by the horns ... playing really well, his name's getting mentioned for representative sides.
"I know how big an off-season he had, working hard, getting fit. For someone that big, he's so mobile as well. He's a great asset for us. He's got great hands, offloading - and before the line as well.
"Frankie's been at the top of his game for a number of years now and he's keeping up the form of the reputation he brings.
"He's a devastating edge ball-runner, he's got a great offload and great hands too, he's set up a couple of tries this year."
Graham, who played more than 200 Super League games for St Helens, says NRL footy has been just as tough as he expected so far.
He hasn't decided if he will stay beyond his current contract. Bulldogs fans will hope so.