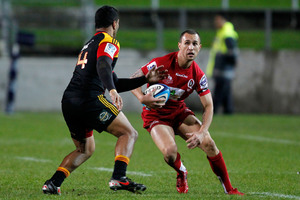 The Reds will rely on Quade Cooper's audacious playmaking to revive their Super rugby defence against the Waratahs, but it's his improved defence that holds the key to his Wallabies return.
Cooper is likely to have tonight's crunch clash with the Waratahs, featuring Australia's incumbent first five-eighths Berrick Barnes at No12, as his last audition for a test recall.
The seventh-placed Reds need a four-try bonus point win to give them a realistic shot of making next week's playoffs, but national selectors will be looking at Cooper's tackling as much as the attacking skills that could keep the defending champions alive.
Reds coach Ewen McKenzie revealed he has returned Cooper from fullback to the frontline in defence to improve his claims on the Wallabies' No10 jersey for the Rugby Championship.
It's a challenge the 24-year-old, maligned as a poor defender since making his Reds debut in 2007, has embraced, but he is sure to be targeted by the Waratahs at Suncorp Stadium in Brisbane.
McKenzie, who moved him out of the frontline in 2010 to use his counter-attacking skills, believes Cooper has unfairly copped harsh criticism.
"In the higher representative honours, they're looking for more consistency so we've acknowledged that to help him at the next level," he said.
"It's more a matter of demonstrating he can line up where a test No10 is expected to more than anything else - just to prove to everyone that he can do that."
Cooper did prove it in last weekend's gutsy 19-13 win over the Highlanders, when he pulled off three clutch tackles on Adam Thomson, Chris Noakes and Jamie Mackintosh in the last two minutes to prevent a match-winning try.
"I've enjoyed defending in the frontline," the five-eighths said.
"I've enjoyed watching my game progress and I've been able to add extra dimensions to my game."
With Wallabies coach Robbie Deans a big fan of Brumbies centre Pat McCabe, Barnes - a standout in the 3-0 series whitewash over Wales last month - is not expected to move to No12 to accommodate Cooper.
Deans will name his test train-on squad on Monday, adding extra motivation for Waratahs players to end their seven-match losing streak, and the Reds to win a sixth in a row, by delivering some positive last impressions.
Statistics show the Waratahs, who have lost eight matches by less than a converted try, have conceded most points in the final 20 minutes and the Reds will aim to play them out of the match by the hour mark and then capitalise with a bonus-point win at Suncorp.
But Waratahs captain Benn Robinson denied fitness was an issue, stressing they needed to improve their mental resolve.
"We have lapsed in concentration a few times there and that's led to points," he said as the team prepared to leave Sydney for Brisbane.
"It's not like players are struggling to get into position - it's key reads and key passes that are going to ground.
"I think the way we start the game on the weekend is going to be crucial in the way we finish it off."
- AAP