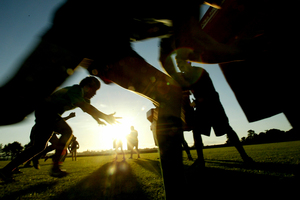 Among the memorabilia in a mobile museum that toured the country during the Rugby World Cup there was a typical photograph of an Auckland under-age rep team. At the end of one of the rows of proud young faces stood a slight but lively looking imp with long lank hair parted at his crown.
In the lines of names below, his was highlighted: "Sonnybill Williams".
So that's where he came from. "Sonnybill", a boy at an Auckland school, thin legs in footy boots, catching the eye, a future All Black for sure.
Sonny Bill might have come from another planet as far as we knew. He certainly played like it, running angles and flipping "offloads" that were an instant revelation to rugby.
And now he's gone, or going, which is the same thing.
He said he doesn't want to go, but some time back he shook the hand of a man in Japan who is reported to have offered him $1.5 million for 12 games and he feels he should honour the handshake.
Then, next year, he's going back to league, a game that somebody with his skills can probably play in his sleep. The following year, who knows? Who cares.
Sitting alongside his Super 15 coaches at the press conference this week, he said: "If I ever come back to New Zealand rugby I'd definitely come back to the Chiefs. Even if there was no money here I'd come back for free."
Sport's mercenaries don't need to insult our intelligence. We can understand that money might trump the mana this country bestows on great rugby players. We have to accept it, we don't have to respect it.
Williams, as every spectator could see, had some way to go.
Last year at the World Cup he was still finding his feet; this year he had begun to dance.
His duet with Aaron Cruden against Ireland last month was a glimpse of what was possible - or would have been possible.
Dan Carter, who has reached the summit, voiced his disgust this week that Williams was going to waste so much talent.
Sonny Bill, or his manager, is content to cash in while he can. At least the manager has the grace to keep quiet, unlike Jonah Lomu's gabby handler, who kept his boy on an All Black contract for years with nothing more than talk of a second coming.
It says something for the New Zealand Rugby Union's professional progress that it would not pay the asking price to keep Sonny Bill, it has not promised him anything the year after next, and it had its coaches sit alongside him this week to show there were no hard feelings and wish him well.
It doesn't need him. It was going to be a pity to see Ma'a Nonu lose his place to him this season. Nonu, by contrast, has worked for his career.
He, too, had explosive natural talents when he started. The young Nonu could break a line brilliantly but nobody knew where he was going. He scored abundantly for Wellington and the Hurricanes but the All Blacks used him sporadically.
Then, after a few years, he wasn't scoring so much and sportswriters decided he had lost some pace. He hadn't. He was quietly turning into a complete mid-fielder, reliable, strong and still capable of breaking the line when it mattered.
Behind the beads, dreadlocks and the mascara there was obviously a personality that could respond to advice and opportunity. The maturing of Ma'a Nonu has been one of the finest sights on rugby fields in recent years.
It must have been frustrating for SBW that Nonu was preferred for the World Cup. But this season is shaping up differently. It is far from the anti-climax we might have expected after the Cup.
Williams knew he was riding a new wave of exciting players who have graduated from the "academy", wherever it is, that produces the Aaron Smiths, Andre Taylors, Beauden Barretts, Sam Canes.
All of them are class and most of them will get even better, as Cruden has this season.
Sport is a metaphor for life. Some people are blessed and aspire to be the best they can be. Some people are just blessed.
A nation is blessed to have something in which it excels in the world. When somebody of prodigious talent comes to play here, we suppose it is to reach the peak of their art.
When their talent is in a team game, we can suppose they have seen the peaks the All Blacks hit at times in recent years and sense that with the World Cup in their cupboard they can take the game to even greater heights.
The next generation of boys in footy boots might look back at photos of Sonny Bill Williams and wonder who or what he thought he was.