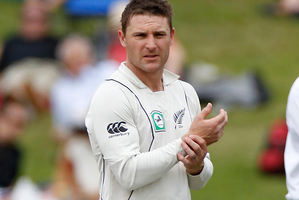 New Zealand will consider thrusting Brendon McCullum straight into action for the third ODI against the West Indies in St Kitts tomorrow.
The shambolic state of the tour - played four, lost four, and by a pile at that - meant whistling up the breezy opener earlier than expected.
McCullum was to sit out the T20 and ODI legs of the tour to give him extra time off after his Indian Premier League commitments. The folly of that decision is staring at New Zealand Cricket in capital letters.
The player arrives in the Caribbean today and depending on what state he's in, coach John Wright confirmed yesterday that he may be pushed straight into a side badly in need of some spark.
"We will see how he feels," Wright said. "It will not be entirely up to Brendon. I will make that decision because I want to see how fresh he is."
Fresh or stale as week-old bread, the situation demands if McCullum is close to his usual perky self, he should be padding up tomorrow.
Right now New Zealand are at risk of tumbling over a precipice it seems they didn't see coming.
Precious few players seem in any sort of form, and this against a side who, while benefiting from recent hard matchplay against Australia and England, are still the West Indies, not one of the world's strongest teams.
Failure to have the squad spend any time in a pre-tour camp can now be seen as a throwback to the old amateur ways. The fast-medium bowlers had a week in Brisbane before departing but the collective group did nothing before meeting at Auckland airport on June 24. That's no way to prepare for a youth tour, let alone a senior international team.
Wright yesterday played the budget card for that decision by NZC.
"We planned back in about January and February, but the information we received was that the budget didn't allow that preparation to occur, so you just get on with it," he said.
Of most on-field concern has been New Zealand's inability to put a hold on West Indian opener Chris Gayle. In four innings, he has hit 85 not out (off 52 balls), 53 (39 balls), 63 not out (57 balls) and 125 (107 balls). He has planted the ball into the stands 23 times, with the ease of an old hand dispensing lessons to a club attack.
Short boundaries don't help, and he can take apart the best, but New Zealand's bowlers are no strangers to Gayle's game. But as a taxi driver told Wright yesterday: "You have run into a strong wind, coach."
Unless the Gayle question is answered, and the batsmen figure out what bamboozling spinner Sunil Narine - 11 wickets in 28 overs at 10.6 apiece - is all about, the prospect of the tour going completely down the pan grows with every game.
New Zealand are also likely to play left armer Trent Boult, a late arrival on tour, tomorrow, but the four arriving for the tests, Neil Wagner, Dan Vettori, Chris Martin and Kruger van Wyk, won't be considered.