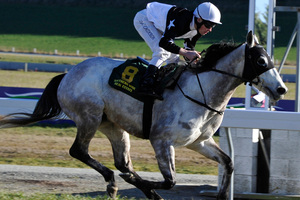 It is doubtful any jockey has ever grown up hoping Oamaru would be where their dreams came true.
However, Matt Cameron knows the sleepy South Island town could hold the key to winning his first national jockey's premiership.
The Matamata jockey restored his lead over Lisa Allpress in the race to be this season's top jockey with a treble at yesterday's Oamaru meeting, taking him to 151 wins against 148 for Allpress.
That was the pressure release Cameron needed after a fortnight in which the harder he tried the worse things seemed to go.
Cameron was as much as 13 wins clear on the premiership a month ago but Allpress pegged that back to even starting yesterday, catching up six wins last week alone.
"I was going through one of those periods when I felt like I was doing everything right but not getting much reward," Cameron told the Herald.
"Then, all of a sudden, Lisa caught up six winners in three meetings and I needed to get some momentum back.
"So today really helped. Getting three winners and Lisa getting none gives me some breathing space.
"But I know she will fight back."
The treble saw Cameron shorten into $1.55 favouritism with the TAB to win the title, pushing Allpress out to $2.35 after they started the day equal in the market.
The pair can ride at a maximum of 15 meetings each in the remaining 21 days of the season, two of those at Oamaru, including the final meeting of the season.
"After today it is my new favourite track, for this month at least," said Cameron.
"We have two more meetings here and, funnily enough, the premiership could come down to what happens here."
Cameron knows the premiership carries no direct financial benefit but his desire to win it has been stoked by Allpress' late-season surge.
"It would have always meant a lot to win the premiership, but maybe a month ago I was cruising along a bit more than I am now.
"But having got this close I really want to win it now and I will be riding everywhere I can."
Winning the title would ensure the 25-year-old can set his future goals with the premiership monkey off his back.
"If I win it, then I can look at next season and concentrate on quality of rides and the better races a little more, rather than the number of rides.
"But to do that I have to win the title first, so we still have some work to do."
Cameron says the efforts of his manager Mark Claydon and the support of some key trainers have been pivotal and now his job is just to keep calm and ride well.
"And we have to be organised, right down to everything like flights.
"If you get all those things right then it is not so tiring.
"And I can always sleep on the plane."
He and Allpress head to Pukekohe tomorrow for their next meeting. Allpress already has a full book of nine rides, while Cameron, who so far has only six mounts, says he hasn't even studied his rides yet.
"While you know plenty of the horses already, I won't do the form till I get home because it is a matter of taking it one meeting at a time.
"But I'm enjoying the challenge and am running on adrenalin at the moment. Then once it is all done I can have a holiday."
Probably not in Oamaru.