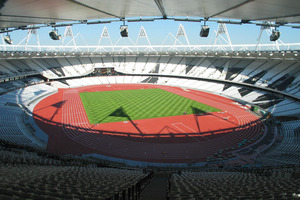 Barring late withdrawals, the New Zealand Olympic Committee will send 185 athletes to London this month.
The NZOC finalised its team yesterday with the addition of decathlete Brent Newdick, heptathlete Sarah Cowley and cyclist Rushlee Buchanan.
It is the largest New Zealand team selected for an Olympics. Although 185 athletes represented the nation in Beijing four years ago, the original number was 182, but that grew by three as reserves were brought in.
The NZOC sent 149 athletes to Athens in 2004 and 151 to the "home" Olympics at Sydney in 2000.
The number also beats, by a mere 178, the size of the team sent to the last London Olympics in 1948 - the so-called "Austerity Games".
"London will be a significant Games for New Zealand," NZOC secretary-general Kereyn Smith said.
"We anticipate that with 185 athletes we'll be among the top 20 largest teams at the games."
While Athletics New Zealand was able to add Newdick and Cowley to its squad, there would have been some disappointment as several athletes missed out on last-ditch attempts to qualify.
Heptathlete Rebecca Wardell was to make an 11th-hour effort at the French combined events championships over the weekend, but had to pull out with a hamstring injury she suffered in competition at Ratingen recently.
"I had a self-imposed fitness test on Wednesday in Valencia, and whilst I could run comfortably at about 85 per cent in spikes, I couldn't make the next step up to 100 per cent without pain and the serious risk of tearing the hammy again," Wardell posted on her website.
"What makes it particularly hard for me this time is the fact that I was in the best shape of my career."
Wardell is likely to retire from competitive athletics, but the 2008 Olympian will have a presence in London, working for the NZOC at New Zealand House.
In Heusden, Belgium, Zane Robertson finished slightly more than 3s out from the 3m 35.5s required to qualify for the 1500m.
Twin brother Jake recorded 13m 26.66s in the 5000m, more than 6s outside qualification.
Monique Williams came up short in the 200m at Bottrop, Germany, finishing 1.17s outside the 23s qualification mark.
Also in Bottrop, Tom Walsh finished a full 2m shy of the required 20.30m in the shot put, which will provide more fuel for Jacko Gill supporters who believe he should have been given the Olympic nod as soon as he hit the qualifying standard.