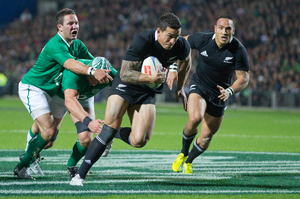 Sonny Bill Williams' departure leaves some head-scratching for the All Black selectors as they eye up midfield contenders for the Rugby Championship and end-of-year tour to Europe.
A revived Ma'a Nonu will swing back into action after resting up for the June internationals against Ireland. But his back-up is not so apparent.
The All Blacks used six players to support Nonu at second five-eighth from 2008 until now, but five of them - Williams, Luke McAlister, Stephen Donald, Isaia Toeava and Benson Stanley - are overseas or heading there.
Daniel Carter had one test as second five-eighth against the Wallabies in Hong Kong in 2008 before that experiment was discontinued.
It could be reactivated because Aaron Cruden and Beauden Barrett are rich talents who look suited to a decent life as test first five-eighths. But shifting Carter from the backline director's seat would mean a change in emphasis and style to accommodate his skills, which are vastly different from Nonu's.
Williams is announcing his intentions today, plans which involve heading for Japan before taking up a one-season stint in the NRL. There have been hints he could eye up another bout of rugby in New Zealand from 2014 onwards, but if that happens the NZRU will want Williams' signature for longer than his yearly deals.
His departure opens the chance for current All Black squad pick Tamati Ellison to fill in behind Nonu. Both were in Japan before this Super 15 season and came straight back to work with the Highlanders and Blues.
They were picked in the All Black squad for the June tests but Nonu did not play and Ellison was used for just 19 minutes as a sub for Conrad Smith in the third test at Hamilton.
Ellison damaged a hamstring at the weekend and will now have time to recover, while Nonu has one more game with the Blues before the Rugby Championship starts on August 18.
International class second five-eighths are not widespread. Tim Bateman, Phil Burleigh and Ryan Crotty are all solid, but without the game which suggests they could go up a notch. Richard Kahui might have been a prospect to shift in a place if he were not injured and out for the season.
The All Black selectors will not want any injury mishaps during what will be a gruelling playing and travelling schedule for the Rugby Championship and Bledisloe Cup series, a seven-test odyssey which stretches from mid-August in Sydney until late October in Brisbane, with visits to Auckland, Wellington, Dunedin, Argentina and South Africa in between.
In theory, Williams could be available for the initial two tests before he has to be in Japan at the end of August, however it is understood he has indicated he would prefer to sign-off at 17 internationals.
The All Blacks are allowed to use 28 players during the Championship and that will limit experimentation.
There are other choices the selectors can explore on the end-of-year tour, where they are expected to take 32 players for the four-test trip. The rise of more midfielders during the provincial championship will help, while there could be positional changes for others.