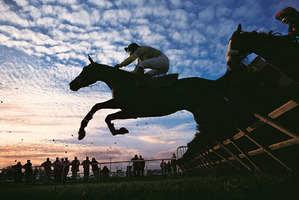 As the names of the glamour group of horsemen and women for New Zealand's Olympic Games expedition were being rolled out this week, I couldn't help musing about a sport that has captured the hearts of thousands of Kiwis over many years, yet outside Olympic years has remained virtually invisible.
That sport is equestrian - eventing and showjumping, whose presence spreads from the grassroots backblocks the length and breadth of New Zealand's countryside, all the way to the royalty and glitterati of the United Kingdom and Europe.
For a rugby-centric country the size of New Zealand, we do remarkably well in this hugely widespread sport.
Now, let's get one thing straight at the outset - personally I don't like horses and these animals, as they have every right to, have returned the feeling in truckloads. Admittedly, my only experience of actually riding a horse was many years ago at a so-called 'dude ranch' in Rotorua. The horse designated for me to ride was called Lippy. Lippy looked like a 'biter' to an overweight novice horse-rider from the big city.
And so it proved.
Lippy turned out to be a cunning wolf in sheep's clothing - for 30 minutes she appeared to deliberately take me into every fence and nettle bush, uphill and down dale, and under every low-hanging branch to be found on the trail, all the while meandering slowly back to the ranch and her ultimate destination of the feeding stations. It was a salutary lesson never to trust a horse by its feigned interest in delivering value to the punters.
There is some argument that the gymnasts are the real glamour branch of the Olympic team but I don't agree.
The horse and rider combination is one of unique strength, intelligence and beauty. And besides, gymnasts don't have to put up with acts of rebellious behaviour or feed and groom their pommel horses every day of the year.
Post-Lippy, I had no further desire for any horse or pony involvement until my daughter roped me into the sport again. I was persuaded to buy a horse, Goldie, who promised more - in showjumping ribbons and medals rather than TAB dollars.
This new addition to the family proved rather fractious, never appearing to appreciate my Sunday contribution nor aspiring to the level of Mark Todd's Charisma. That contribution included hours of collecting and transporting horse and kit around the Auckland region with the preparation of horse and rider matching the frustration of an increasingly unrewarded support team. History even repeated itself with Goldie's successor Chief when in the end we concluded that he just could not jump and deserved his nickname 'White Man'.
All this goes to say if your daughter or son expresses an interest in eventing or showjumping, consider the personality of the horse and the commitment of the rider as thoroughly as you would any other potential suitor for your horse-besotted teenager. I have no doubt it can be a marvellous pastime, but from experience more than a handful for the uninitiated, with often scarce reward.
The prospect of reward, however, looks strong from the team announced last week. New Zealand has assembled a compelling mix of vast experience and youthful potential which could well translate into Olympic medals. Our riders never lack for top competition and will be well worth watching as they again take on the world's best.