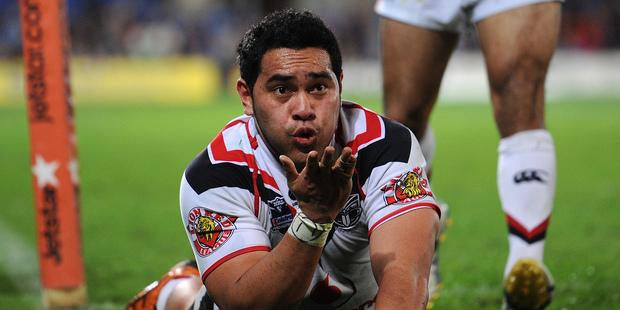 Titans 14
Warriors 32
It wasn't always pretty but NRL wins don't have to be. This was a vital two points banked and will see the Warriors return to the top eight. The Titans, missing some of their top players, were competitive in the first period but faded badly after halftime. After 22 minutes the Warriors trailed 14-4 before scoring 28 unanswered points across the final hour.
It was a ragged match, full of mistakes (mostly from the Titans, who completed just over 50 per cent of their sets) amid plenty of flair.
This match was won up front with Jacob Lillyman, Ben Matulino and Feleti Mateo particularly impressive in the trenches. Nathan Friend was a man possessed, with a real point to prove over his former team, and Konrad Hurrell continued his staggering season.
Defensive problems remain, with three tries conceded within a limp 10-minute spell in the first half. It is an inexperienced backline, even more so with Omar Slaimankhel in the side, but the lack of intensity on defence and their ability to switch off for periods is a team wide problem.
It can be inexplicable; at times their scrambling is brilliant and the tacking close to the line courageous but during other moments the defence is as flaky and inattentive as a Generation Y teen with an iPhone.
The Titans have been better this year than last but are still a limited team. At one point this season they lost five straight matches and last night were without Origin stars Nate Myles, Greg Bird and Ashley Harrison. But the Warriors had failed on similar recent assignments against weakened Tigers and Sharks outfits. They would have been confident at Skilled Park - the Warriors have won only one in five games here - though the Titans had not toppled their Auckland rivals since 2010.
Hurrell opened the scoring - his tenth in 12 games - but the manner of the try, from a second man play with bodies in motion, has been a rarity for the Warriors so far this season. The lead didn't last long as the Titans scored three tries in 10 minutes. First, Shaun Johnson was badly exposed on defence and Beau Champion strolled over in the corner. Touchdowns to Kevin Gordon and and David Mead followed soon after as cracks appeared in the Warriors' 'baby backline'. Just as the half seemed to be slipping away the Warriors responded with a brace of their own. A trademark step and dummy sent Johnson over before a display of sheer brute force from Hurrell gave them the lead.
As with many of the Warriors games over the last two years, Maloney was one of the best on the park. Johnson offers moments of simmering brilliance but Maloney is a consistent threat. He also came up with a vital trysaving tackle just before halftime and a front on hit on Jamal Idris a metre from his own tryline was as astounding as it was courageous. The play to set up Hurell's third try summed up his anticipation and vision and then made the crucial break that led to the Matulino try, underlining how tough he will be to replace in 2013.
The Warriors owned the first period of the second half, benefitting from some charitable moments from the Titans (the home side completed just two sets across the third quarter). Hurrell completed his hat-trick six minutes into the second half before Ben Matulino wrestled his way over in the 61st minute.
Warriors 32 (K. Hurrell 3, B. Matulino, S. Johnson, K. Locke tries; J. Maloney 4 goals) Titans 14 (B. Campion, K.Gordon, D. Mead tries; S. Prince goal). Halftime: 16-14.