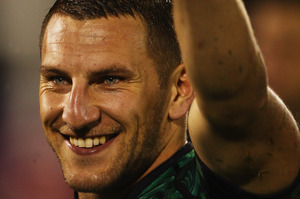 Ivan Cleary found the grass isn't always greener and that could soon be the case for Lewis Brown, but the Warriors utility has no regrets about his move to the lowly Panthers.
Brown will join his former boss at Penrith for the 2013 NRL campaign. The change of clubs could hardly be described as a step up.
The Panthers sit second from bottom after 17 rounds this season, and Cleary's tumultuous year is almost certain to end without finals football.
With the Warriors still in the hunt for a top-eight spot a year after reaching the grand final, Brown could be forgiven for second-guessing his impending shift across the Tasman, but he insisted the change of scenery would enhance his career.
"It's going to be very sad to go, but that's the business," Brown said. "To better my career and get an opportunity to become a better footballer, I had to move on."
Moving to what appears to be an inferior club to improve his game sounds like a contradiction but Brown is of the age where change may be just what he needs.
The 25-year-old is in his fourth season with the Warriors and has probably reached his peak at the club. An honest and reliable player, he has maximised his natural abilities but he may have met a glass ceiling at Mt Smart Stadium.
He also plays a position in which the Warriors are well-stocked, with Ben Henry's probable switch to the second row when Dane Nielsen arrives from Melbourne increasing the options.
A move to the base of the Blue Mountains removes Brown from his comfort zone and reunites him with the man under whom he played his best football.
Brown was known to enjoy a close working relationship with Cleary. When he announced in March he was following Cleary to Penrith, Warriors team-mate James Maloney tweeted his congratulations to Brown for putting family first in his decision to join his "dad".
"He's the one who gave me my opportunity and he got us to a grand final last year," Brown said. "I've got a lot of belief in him and I'm pretty sure there are a lot of people in the rugby community who also do."
That belief leads Brown to think Cleary can turn around the Panthers' fortunes.
"He's probably the first to admit this year hasn't gone that well," Brown said. "But Ivan has shown what he can do. He's a good coach and I wouldn't be going there if he wasn't a good coach."
Some of his new team-mates may not agree. Cleary has made audacious decisions in his first season at the Panthers, dropping Michael Jennings, the team's best-paid player, removing the captaincy from Kangaroo Luke Lewis and axing fullback Lachlan Coote for a lack of punctuality.
Cleary's disciplinarian nature has incurred the ire of senior players and the unforgiving Sydney media, but Brown backed Cleary's approach despite the Panthers' four wins leaving them eight points from the top eight.
"I think, by the sounds of things, they're probably not used to being coached by a coach," Brown said. "Apparently, they're pretty used to running the team themselves."
Brown will soon be able to see for himself whether Cleary's methods are amending that environment but, for now, he's focusing on only his current team."I'm just keeping my eye on our opponents each week and not keeping an eye on Penrith. I'm there in 2013 and not 2012. For me, it's a matter of finishing off strongly at the club that I've got so much respect for."
- APNZ