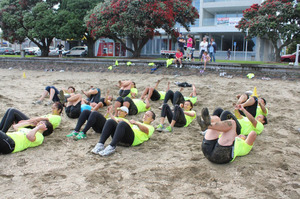 Essendon Tuitupou is a hard-man, with a big heart and a famous brother.
The 40-year-old, a project manager at Faith City Church and group fitness instructor at Les Mills, is the older brother of 10-test All Black Sam.
The diminutive Sam Tuitupou was famous for making bone-crunching tackles for Auckland and then the All Blacks during his test career from 2004 to 2006.
Essendon Tuitupou is making a profound impact in his own way.
He has been running a boot camp in South Auckland for the past five years that has achieved some amazing results. Up to 250 people attend each week and some participants have lost as much as 60kg.
Where did the inspiration to start up a boot camp come from?
Our Faith City Boot Camps started in 2007 as a way to help the community and address some of the health problems we face in South Auckland. After moving back to Auckland from Wellington in 2007, I was dismayed at some of the things I saw.
Among the most disturbing were young kids on their way to school in the mornings with a bottle of fizzy drink in one hand and a pie or packet of chips in the other. I also noted it wasn't that common in South Auckland to regularly see people jogging or exercising in parks.
How often do you meet, where, and what sort of training do you do?
Depending on the programme we're running, participants train three or four times per week. When we started our programmes in 2007 we ran six-week programmes which were open to anyone and everyone to join and the focus of training was for people to enjoy exercise and to involve families as much as possible. In 2010 we started 12-week programmes, which ran concurrent to the six-week programme and were designed for people with higher health-risk factors - generally men weighing more than 130kg and women more than 100kg.
We train in the mornings only. During the week we train at Allan Brewster Stadium in Papatoetoe and on Saturdays we train at outdoor venues. Les Mills has also been great in allowing us to sometimes bring in groups for training sessions.
We mix our training up with cardio sessions, resistance training and boxing training. Our main priority is to ensure that participants enjoy exercise and to develop good support networks with family and friends involved.
What sort of person is the boot camp designed for?
Just about anyone and everyone who is keen. When they join, people will be allocated into teams according to their fitness level. Because we encourage the social and team ethos of training, a lot of families, work-mates and groups of friends participate in our programmes.
How many athletes do you have?
Our winter six-week boot camps tend to get between 200 and 250, and our summer programmes average slightly more than that. Our 12-week programmes are restricted to 40 each so we can work more closely with the participants and their families.
What have the results been like - have people lost weight?
Most lose weight, from modest amounts to some significant losses. One participant on our 12-week programme at the moment has lost 20kg in eight weeks and several others, through doing several programmes over a number of years, have lost between 30kg and 60kg.
But the main message we try to push is that weight loss is a byproduct of physical activity and sensible eating, and these are issues of lifestyle and healthy living. Our aim is to get people started in changing their lifestyles through enjoying physical activity and doing it with family, friends and workmates.
How important is it having an event like the Tough Guy and Gal Challenge to build towards?
The challenge is a useful tool as it helps focus training on a specific date and event. For most of our Faith City Boot Camp participants, it is something they would usually not have considered competing in or even being able to complete. Only half of our boot-camp programme will compete but the focus that those 120 boot-campers train with rubs off on the remainder of the participants.
How satisfying will that event be for all the people who have been training hard?
It will be hugely rewarding, not just for the individual achievement of completing the training and the event but, just as importantly, because they will complete it with others who have worked hard with them on the same six-week journey.
What advice do you offer people trying to get fit and lose weight?
The best thing to do is to find a group of people who are motivated and keen to train and join in - their energy will rub off on you. Also mark an event in your calendar such as a race or Tough Guy Challenge, find a group of friends crazy enough to do it and use that as motivation to train. All the other stuff such as losing weight, getting fitter and having more energy will be positive byproducts.