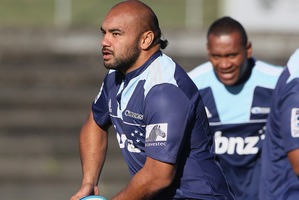 Not many Blues players have taken their chance this season.
However, prop Tevita Mailau has done enough to represent Tonga for the first time and to earn a contract in France.
The 27-year-old has made a dozen appearances for the Blues this season as injuries have bitten into their resources.
Mailau was eligible for Tonga, Australia, by birth, and New Zealand and last month, during the break in the Super 15, wore the red jersey of Tonga for the first time in the Pacific Nations Cup.
And in a few weeks he is packing up for work with the Mont de Marsan club in the south of France, another in the growing list of those leaving the ailing franchise.
"The more rugby I get the better," he said. "I notice when I am not getting games that fitness and things start to slip."
He is one of a growing number of players leaving the franchise as their campaign goes into its death throes.
There is an Eden Park farewell tonight against the Force in a match, which, as strange as it sounds, should be won comfortably by the hosts.
The Blues are returning from a bye and have a rising injury list but should still have too much firepower for the visitors.
Mailau expects more of a scrum workout from the Force than he got during the Pacific Nations Cup but that international experience has whetted his appetite for more.
"It was busy but it was great. We played the Chiefs on Saturday, flew out Sunday and had the captain's run Monday for the game against Samoa," he laughed.
Mailau had not taken up previous offers from Tonga because he did not want to impact on his chances of Blues work.
"But this time it's a bit different, I have a goal of making it to the next World Cup in 2015," he said.
This season had been very gruelling because of the ongoing mishaps at the Blues but Mailau was satisfied his game had moved on.
He had improved his round-the-field play, especially on defence.
"I knew I had to do the basics really well and everything else would flow on."
It would be great to have captain Keven Mealamu back at his left side after months out with injury.
"He is a good man and the boys lift when Keven is around so we want to put a big one out there for him," Mailau said. "He came back well against Ireland so if we get some of that it will be great."