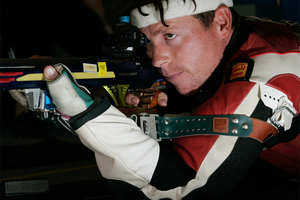 Shooter Ryan Taylor has won his appeal to compete at London but his inclusion in the New Zealand Olympic team means fellow shooter Natalie Rooney misses out.
The 32-year-old, who competes in the 50m prone rifle event, was originally overlooked for a spot in the Games team but appealed against the decision. It was upheld by the Sports Tribunal of New Zealand.
The New Zealand Olympic Committee supported the appeal once alerted to the fact some of the original evidence in Taylor's case was false. This was corrected by the New Zealand Shooting Federation and showed Taylor met the NZOC's criteria as capable of a top-16 finish.
NZOC secretary-general Kereyn Smith said it was regrettable they had to enter such a process.
"Ryan advised the NZOC selectors that they hadn't received all the necessary information to consider. Some of it also hadn't been accurate. The selectors then went about sourcing their own information.
They did some thorough research and realised he was capable of a top 16 finish or better, despite the initial submission suggesting he was ranked 30th.
"They looked in detail at the quality of shooters in his events, reviewed their scores and looked at the last three Olympic fields in entirety. The NZOC rely on sports to put the information for selection cases in front of us. On this occasion more research needed to be done.''
Taylor's inclusion in the Olympic team is dependent on a quota spot being reallocated from women's trap to men's 50m prone rifle. Both the NZOC and New Zealand Shooting Federation will lobby the International Shooting Federation and, if successful, Taylor will earn selection.
It means heartbreak for Rooney, who had been told her nomination to the New Zealand team had been successful and would compete in London. It would have been the first Olympics for the 24-year-old, who competed at the 2010 Delhi Commonwealth Games.
"I have left Natalie a message,'' Smith said. "I anticipate she is devastated. This is a regrettable and unfortunate situation but she is a talent who could well make the Commonwealth Games at Glasgow [in 2014]. We understand Natalie will not be taking this matter any further.''
A single shooting quota spot had been won for New Zealand in women's air rifle AR40 in 2011. However, the athlete who qualified this spot didn't meet the selection criteria agreed between the New Zealand Shooting Federation and NZOC.
The only way a New Zealand shooter could compete in London was if this quota spot was transferred to someone who met the criteria. The priority was for the spot to be reallocated within the same discipline - rifle - if possible, but the NZOC originally decided Taylor didn't meet their criteria so it was transferred to Rooney.
The Levin shooter finished 36th at the 2004 Olympics in Athens and was also seventh at the 2006 Melbourne Commonwealth Games and 14th in Delhi in 2010.