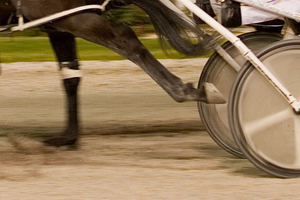 Auckland pacer Major Star has got the right draw to record the first Kiwi group one win of the rich Victorian winter carnival at Melton tonight.
And some sensible flexibility from the TAB will allow New Zealand punters to watch what could be the highlight of the racing weekend.
Major Star clashes with fellow New Zealand rep Border Control and leading Victorian juvenile pacers Guaranteed and Lennytheshark in the A$100,000 Vicbred Final.
All four were eyecatching in their semifinals last week but most Kiwi harness racing fans wouldn't know that because the glamour semifinal, between Major Star, Border Control and Guaranteed, was not shown on Trackside.
That was because it started just three minutes before an Alexandra Park race, just as it will again tonight, when the Melton race is scheduled for 10.12pm (NZ time).
But Trackside television staff realised the problem on Tuesday and soon remedied it, so the Melton race will now be screened on TAB TV (Sky channel 35).
That will come as a relief to Major Star's army of owners as he is the latest good horse to race for one of the ATC Trot syndicates.
He has only had three starts, for two impressive wins before he was run down late into second by Border Control last Friday.
He gets the perfect opportunity to avenge that defeat tonight as he will start from barrier four, while Border Control and Guaranteed face second-line draws.
But trainer-driver Brent Mangos admits he will have to be awake to Major Star's inexperience which, coupled with his good eyesight, may have cost him victory last Friday.
"He actually didn't have his mind on the job at the start last Friday because he was gawking at the starter, who was right in front of him at barrier four," said Mangos.
"He took a bit of fright at him and once he got over that and got going Mark [Purdon, driving Border Control] was past us and that changed the race. But this week I'll get him up on the gate and used to it quicker and I am sure he will be fine." From there Mangos is confident he can press on to lead and put the pressure on the other two favourites.
"And if they are good enough to come around, sit parked and beat us then so be it."
Major Star has been aided by having relatively soft runs in Australia and will be heavily backed tonight in a race where so much will depend on how much work Border Control and Guaranteed have to do to get handy.
Border Control is the real deal but may lack an ounce of change-up speed so would appreciate the pace being on.
While the Melton meeting provides the transtasman highlights of the night, winners shouldn't be too hard to find at Alexandra Park.
Small fields will make for some short-priced favourites, with Gareth Dixon one trainer to follow. He has the free-running Mr Hasani in race eight where he should be able to adopt his favoured pacemaking tactics.
And a race earlier stablemate Ida Tiger will attempt to remain unbeaten, although his task will be more difficult up against Holme Fire, who has been brave in her two recent Alexandra Park starts.
WEEKEND WINNERS
Best bet: Bettors Creek (Alex Park, R2): Ran third in 1:52.1 mile at Jewels four starts ago. Drops back to amateur race.
This time: The Royal Charger (Alex Park, R9): Keeps finding ways to get beaten but sure can't do that again against weak opposition.
Each way: North Flight (Alex Park, R5): Has been racing in far stronger maiden fields and will win soon.
Improver: Jasinsky (Alex Park, R4): A bit nutty but if she behaves 2200m will suit.
Worth waiting up for (Melton, R7): Second clash between Major Star-Border Control-Guaranteed will be a beauty.