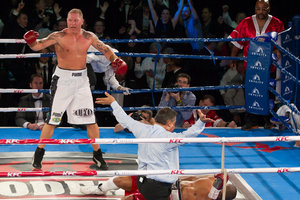 A brave but limited campaigner whose body isn't quite big or robust enough for the heavyweight game, but slightly too ponderous for the upper echelons of the cruiserweight division - that's been pretty much the book on Shane Cameron.
Last night a huge Cameron right hand eight seconds into the fourth round of his fight against heavyweight title gatekeeper Monte Barrett ripped up that book and threw it out the window.
In poleaxing Barrett, Cameron achieved what David Tua - one of the premier bangers of the modern era - couldn't in 24 rounds.
He had been edging the bout thanks to a crisp jab and nuisance value left hook, but there was no sign of what was to come in the opening exchange of the fourth round. Barrett opened up and Cameron threw the best punch of his career straight down the pipe for a no-doubt KO. Cameron was celebrating before the count reached one.
"It was one of those shots you never see coming," Barrett said.
For Cameron there was a hint of destiny in the outcome.
"I wrote in my diary at the start of the year this was going to be my year - this is going to be my year.
"I said I wanted to get these belts [the WBO Asia Pacific and Oriental heavyweight titles] back and I did."
He also went along way to erasing the pain of the brutal defeat at the hands of Tua in 2009.
Cameron, who improved to 29-2, has been carefully managed by Ken Reinsfield since claiming a bronze medal at the 2002 Commonwealth Games. Reinsfield's alchemistic efforts have helped transform that bronze into a fair portion of gold, with Cameron banking a $500,000 pay day for fighting Tua. He also received a nice chunk of change for headlining the last Fight for Life with an exhibition bout against Monty Betham.
Those pay days may be chump change compared to what lies ahead if he can plot his path carefully. Barrett has long been the gatekeeper to the heavyweight big time. Last night Cameron ripped the gate off its hinges.
He pulled out all the stops for the fight, travelling to London to spar with former world champion David Haye in an attempt to acclimatise himself with the step up in class. That move paid off in spades.
The question now is whether he can step up to the likes of Haye's level when it's not just a training exercise - and whether Reinsfield can prise open the right doors. The Cameron camp will want to choose his next opponent carefully, as one more impressive win over a name fighter could propel him into world title contention.
Heavyweight prospect Joseph Parker delivered as expected on his professional debut, stopping Huntly school teacher Dean Garmonsway via a second round TKO. Parker displayed some rough edges on his switch from the amateur ranks, but put his burly opponent away with relative ease.
Joey Wilson survived a second-round knock down to score a surprising draw against former league player Solomon Haumono in the main undercard fight. West Auckland plumber Isaac Peach was untroubled in dispatching James Uoka with a fourth-round TKO. Daniel McKinnon had a short night, stopping stand-in opponent Faimasa Tavui in the first round. In the 'celebrity' bouts, Jesse Ryder stopped Mark Watson in the first round, while Jaime Ridge won a unanimous points decision over Rosanna Arkle.