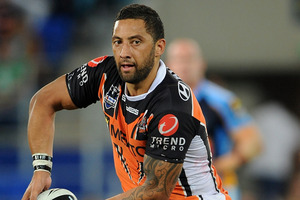 1. Match of the round
Wests Tigers v Bulldogs
ALLIANZ Stadium, tonight 9.45pm
The Warriors may be in desperate need of consistency but they aren't the only fancied side struggling this season. Pre-season title favourites the Tigers won their opening game in golden point, dropped five in a row and then won seven straight. Over the past two weeks the worm has turned again, and they missed 100 tackles to concede 80 points in combined heavy defeats to the Roosters and Knights. Another loss here combined with a Warriors win would see them drop outside the top eight.
2. Et tu, Brendan Guilfoyle?
Grim times at Super League club Bradford, which is facing extinction over a £300,000 unpaid tax bill. Having failed to raise enough funds to service the club's liabilities, administrator Brendan Guilfoyle made all the club's off-field staff redundant, including coach Mick Potter. "I have been stabbed in the front - it's a disgrace," Potter told the local newspaper.
3. More rats and filth
Last year Queensland coach Mal Meninga labelled the NSW hierarchy as "rats and filth" for suggesting he wasn't really the man in charge of the Maroon machine. He was all smiles after Wednesday's victory but in the build-up he bizarrely suggested that stuff printed in Australian newspapers isn't in fact all true.

4. Up yours
Dropped Maroons forward Big Dave Taylor (Big is now his official first name) was a lot less verbose in giving it to the Maroons' hapless tormentors. As the clock ticked down on Wednesday night, TV cameras panned to the Queensland bench. Standing just behind it was Taylor, with his massive middle finger extended in a gesture that didn't appear to be indicating the margin of victory.
5. Ricky road
The cult of Ricky Stuart is still in full force, with NSW players and various hangers-on declaring it was vital the grumpy one be retained for next year's Origin series. Stuart has also been linked to coaching jobs at Parramatta and Canberra, so is expected to have options, which seems to ignore that his last major coaching success was seven years ago (when he led NSW to a 2-1 Origin series triumph). Since then he has presided over a Kangaroos world cup loss, transformed the Sharks from finalists in 2008 to wooden spoon contenders in 2009 and 10 and lost two Origin series. The bloke must have a damn good agent.
6. Say what?
"They are beatable. We had them 20-all in the decider so they are beatable." Greg Bird gets confused about the mathematical relationship between victory and defeat. "I've got no bad feelings about it. It's what happens in football games and sometimes players get suspended for it, other times they don't."