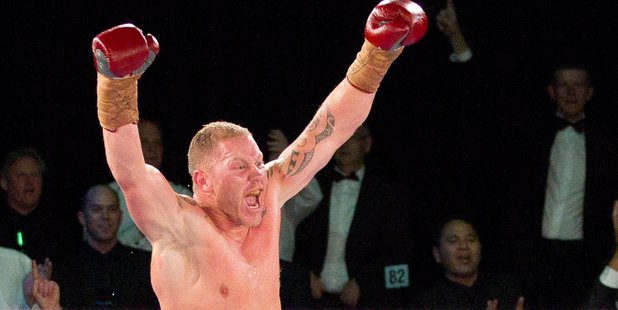 Shane Cameron hopes his stunning knockout victory over Monte Barrett tonight will open the door to bigger things in the heavyweight division - maybe even a world title fight.
Cameron sent American Barrett crashing to the canvas at Auckland's Sky City convention centre with a straight right hand eight seconds into the fourth round. Barrett, so confident in the weeks leading up to the bout, said he simply didn't see it coming.
Now the New Zealander, who has dipped in and out of the heavyweight division and suffered a bad loss to David Tua in 2009, has breathed new life into his career at this level. He also reclaimed Barrett's WBO Asia Pacific and WBO Oriental belts.
He said he would be keen to fight again this year and the manner of his victory will make him an exciting prospect. Although Barrett is 41 and nearing the end of his career, he fought Tua twice for a draw and a victory, and has been in the ring with some big names.
For Cameron, the value of the win can hardly be overstated.
"Tonight I knew I was going to win the fight, but not in that fashion ... but I knew if I caught Barrett he would go over and he did go over and never got back up," said Cameron.
"It will open up a lot more doors in the heavyweight division.
"In terms of making predictions about who I want to fight next, that would be a stab in the dark really, but there will be some good things coming out of this."
Cameron, looked fit and focused before the fight but it was his power more than anything which surprised everyone, including Barrett.
He had prepared for the bout by sparring with David Haye in London, a move which was ridiculed by Barrett, who said Cameron must have "psychological problems" for doing so.
"I didn't want to shoot my mouth off beforehand, that's not my thing," said Cameron. "The Haye camp was a good wake-up call for me. It brought my skills back. Coming back you're always going to have your critics, saying 'you shouldn't have gone', but it was probably just Barrett more than anything, he was probably worried how much I benefited from it. I've learned so much from it."
The first round appeared even, but Cameron had the better of the second and third rounds before dropping his bomb straight down the middle only seconds into the fourth.
"It probably educates the public a bit more about how one punch can change a fight.
"Look what David [Tua] did to me in that first round with that one punch. He didn't put me to sleep but I couldn't recover. What one punch did to Barrett tonight - he was asleep, he doesn't know where he is. Even after the fight he doesn't know where he is. That just shows you how brutal the sport can be. It's not a nice place to be."
Cameron said as soon as he hit Barrett he knew he wouldn't get up and will now hope to work his way to a title shot against one of the Klitschko brothers - Wladimir or Vitali - or possibly former sparring partner Haye.
He said a rematch with Tua didn't interest him.
"It's a hard fight against the Klitschkos, but again it's an opportunity. A lot of people wrote me off tonight, they didn't think I was going to win but I won in great fashion. You just don't know what's going to happen on the night."
Jaime Ridge wins boxing bout
Jaime Ridge beat Rosanna Arkle in an entertaining bout tonight.
She didn't KO the girl from the GC, but she deservedly won on points.
The highly anticipated fight, consisting of three two minute rounds, was held up because Arkle took the ring wearing a tummy button stud, which referee Lance Revill insisted she remove or tape up. She chose the latter.
More minor controversy was to follow when Arkle tried to throw a left jab before the first bell had sounded.
When it eventually did the pair went toe to toe for the entire two minutes of the round. There was no way Arkle, in particular, could sustain the pace. She was looking ragged from the start - the tape across her stomach began unpeeling and the breast protection cups were in severe danger of flying out.
It appeared Ridge, who had a six kilogram weight advantage, was throwing the heavier punches and she stood her ground in the second round, Arkle making little impact despite flailing away left and right.
Ridge merely consolidated her lead in the third round.
Neither looked suited to the ring. Ridge entered it after a long hug with mother Sally.
Arkle while already holding her gloves up. Both wore make-up under their headgear.
"She was really different to my sparring partners. I was really tired," Ridge said.
Arkle added: "She was fantastic, I definitely underestimated her. She's got it."
The third fight of the night, it was the first to go the distance.
Parker begins professional career with a win
Joseph Parker has begun his professional heavyweight boxing career with a TKO victory over Dean Garmonsway tonight.
South Aucklander Parker, a promising amateur in his first professional fight, was too classy for Garmonsway, a Huntly PE teacher, who did well to stay with him until the second round.
A flurry of punches from Parker sent Garmonsway stumbling to the corner and the 20-year-old kept up his assault, the referee stopping the fight 1min 49sec into the second round of the fight which was scheduled for six.
"I'm pretty happy. I knew it was going to be tough,'' Parker said.
"I feel like I'm still fighting like an amateur a little bit. I've still got to get used to it.''
Garmonsway bored in with his head and effectively tied up and frustrated Parker.
The fight was on the undercard to the Shane Cameron v Monte Barrett main event at Auckland's Sky City.