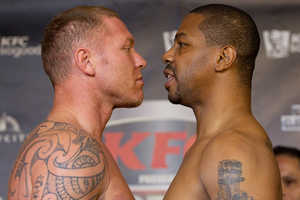 Shane Cameron has knocked on the door of heavyweight boxing's big time once before. David Tua opened it and promptly flattened him.
That was more than 2 years ago. Since then Cameron has largely dabbled at cruiserweight, hoping for a big pay day against Danny Green, the Australian three-time world champion.
Green's rapid, brutal descent at the hands of Antonio Tarver and Krzysztof Wlodarczyk torpedoed those plans, so Cameron is back at heavyweight, back banging on the door.
Opportunity knocks if he can tonight knock over Monte Barrett, the 41-year-old American journeyman who has long served as the heavyweight division's gatekeeper. Get through Barrett and the big boys take notice. Fail, as David Tua did twice with a loss and a draw and the gate slams in your face.
"This is a guy you have to beat," David Haye, the former world champion, told Cameron recently when they sparred together in London.
Haye did just that in 2008, knocking Barrett down five times en route to a fifth-round KO.
His reward was a shot at WBA champion Nikolay Valuev, a bout he won to become Britain's first heavyweight champion since Lennox Lewis.
Like Tua, Barrett represents a major step up in class for Cameron. The American boasts a moderate 35-9-2 record, but his defeats have largely come against title contenders - the likes of Wladimir Klitschko, Hasim Rahman, Haye and Valuev.
Barrett is also the only man to have put Tua on the canvas, while Cameron barely landed a glove on Tua.
But in boxing timing can be everything. Barrett's win against an unmotivated, overweight Tua was a classic case in point. That unanimous points victory last August may have landed Barrett the WBO Asia Pacific and Oriental heavyweight belts, but it is his lone success since 2008, to go with three losses and two draws.
"Every day as a fighter you lose a day off your life," Barrett said when asked whether time was catching up with him.
"You slow down, your speech, your thought process, your memory, everything. So of course I have slowed down."
Barrett has been an interesting study this week. For the most part he has been charming and gregarious. At yesterday's weigh-in - which revealed a 1.9kg advantage to the American - he bared his teeth.
"F*** Shane and f*** Kenny [Cameron's manager Ken Reinsfield]," he pronounced. "I don't give a f*** about either one of them. This is not a f****** game. I am here to tear his head off."
Reinsfield had earlier riled Barrett with a quip about the veteran having "spent more time on his back than a two-dollar hooker".
Barrett had more words of intimidation for Cameron at the face off .
"You are going down. This ain't no f****** Rocky movie. You are about to get it."
Cameron said he intended to shut up "this big-mouth piece of s***".
Fighting talk, but we heard similar from Cameron ahead of the Tua fight and it didn't amount to much. The TAB has Barrett at a strong $1.30 favourite.
"All I can say is that I'm good for this fight," Cameron said. "I've done all the hard yards. Fights are won or lost in the gym."
No, they're not.
Cameron is always in superb shape. He was ripped for the Tua fight but those finely sculpted muscles were not much help when Tua stalked him down with murderous intent late in the first round.
The two weeks he spent sparring with Haye were the best preparation he has ever had for a fight, Cameron said.
Barrett simply laughed off that notion.
"I don't think going out there and getting thrashed by David Haye is going to help him with me. If you have to go to England to get confidence to beat me - I am 41 years old - you have got a problem psychologically. I don't have to go nowhere to get confidence in myself. I am right here. I am telling myself I am the best. Nobody can beat me, especially Shane Cameron."
Cameron believes he is a vastly improved defensive fighter and that his superior speed will trump Barrett's experience.
"I don't think it's going to be about speed," countered Barrett's trainer Buddy McGirt. "I think it's going to come down to who wants it the most. It's going to come down to nuts and guts."
Well, guts is something Cameron has never lacked. He's not the favourite, but he's not without hope.