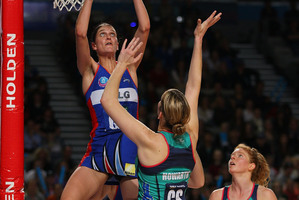 Anna Harrison looks set to taunt the Melbourne Vixens shooters once more, with the injured Mystics star likely to be back on deck for her side's major semifinal clash this weekend.
Harrison, who was sidelined for the Mystics' final-round win over the NSW Swifts, yesterday came through her first full training session since injuring her calf two weeks ago.
A final call will be made on her fitness following the team's last training run in Auckland tomorrow, which coach Debbie Fuller said would involve intense match play.
"At this stage she is looking good, her rehab has been managed well but we are still just trying to take things slowly," said Fuller.
"The decision for me as a coach is how much do you push her? We need to know what she can cope with, but we are conscious it is still early days."
Many consider the Mystics' chances in Melbourne this weekend to hinge on the fitness of the Silver Ferns defender.
Harrison was the star in what was a strong all-round performance from the Mystics in their shock win over the Vixens in their round eight meeting earlier this year.
In that match, the Mystics debuted their controversial defensive lifting tactic, with the Vixens shooters left dumbfounded when Harrison was hoisted into the air to block theirshots.
The assisted goal-tends drew booing from the home crowd, and with upwards of 10,000 fans expected to turn out for this weekend's playoff match, the Mystics can expect an even more vociferous reception on Sunday.
With the Vixens' regular venue booked out, the fixture will be held at Rod Laver Arena - a first for netball. The franchise has released 10,000 tickets for the match, but has the option of releasing a further 4000 seats should the demand warrant it.
Mystics shooter Cathrine Latu said she was not intimidated by the prospect of playing in front of what could be a record crowd for the transtasman league.
"It could get very loud in there, but I have selective hearing anyway," said Latu. "It is going to be a very different atmosphere, but they're still the same players with the same strengths and weaknesses."
The winner of this weekend's match in Melbourne will advance straight through to the ANZ Championship grand final and earn a week off, while the loser will battle it out with the winner of Monday night's minor semifinal between the Magic and Thunderbirds.