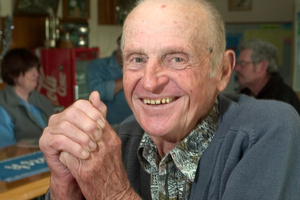 Ivan Kostanich, a legend among lawn bowlers, died on Tuesday, six months after his 91st birthday.
Kostanich, a three-time national champion and "capped" as the 54th player to represent New Zealand, was regarded not just as a great bowler but a champion bloke.
It was standing room only - and there wasn't much of that - when 72-year-old Kostanich strolled onto the green at Matamata's Rewa Bowling Club to play Blenheim's Kevin Gallop for the singles crown at the 1993 national champs.
Sixteen years after coming from 12-20 down to beat Kevin Wing 21-20 to claim his first singles championship (and nine years after he and his best mate Pat Robertson had claimed the national pairs), Kostanich had the huge crowd in his pocket. For him that win was "the biggest thrill".
"There were a lot of happy people that day," said Kostanich in a recent interview.
Rowan Brassey, another regarded among the very best singles players, said of the "Old Fox": "He just steps up the mat and simply picks his line and length almost automatically."
Croatian-born but New Zealand-domiciled since 1938, Kostanich divided his time between the bowling green and the Kaipara Harbour. For nearly 50 years he fished commercially, boasting that he had once pulled 700kg of flounder out "in one go".
"Kossie" would sometimes do a little bit of "fish business" on the side, turning up to clubs with a boot full of seafood to flog off. He was also generous - sponsoring an annual tournament at the Helensville club.
With the knack of playing shots most bowlers would dare not contemplate, let alone attempt, Kostanich was the master. Happy to play in a team, it was nevertheless as a singles player he was at his greatest.
In 1978, he trailed Australian Bill Norman 12-20 in the final of the Sydney City Masters before winning 10 of the next 11 ends to claim the title 31-21. In one memorable day Kostanich saw off three truly champion bowlers in David Bryant, Nick Unkovich and Bob McDonald in an unbelievable effort.
While he played for a time out of the Carlton Club, Helensville was his home. A year-on-year member at the club since 1948, Kostanich won the club's singles 23 times - the last in the 2009-10 season.
As failing health caught up with him he cut back on his bowls, but not his regular trips to "his" club, where he would down a beer or two.
The passing of the "gentleman player", who won four centre gold stars (20 titles) and was Auckland Bowler of the Year three times, leaves another gap in the ranks of those regarded as top blokes - on and off the green.