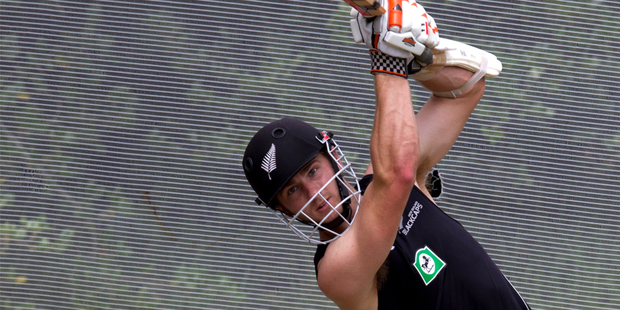 His stint as New Zealand's youngest one-day captain may set to be a brief one but 21-year-old Kane Williamson is confident he can lead the Black Caps from the front in their opening two one-dayers against the West Indies.
Williamson stepped in for injured skipper Ross Taylor to make his captaincy debut in Monday morning's 61-run Twenty20 loss to the West Indies, after only being told of his new role on the morning of the game.
The Northern Districts' all-rounder has had more time on his hands to plan for his next match in charge, Friday morning's opening one-dayer in Kingston.
Williamson will take the reins in just his 25th ODI but expects to hand them over to a player with 175 more games to his name by the time the third match rolls around, with Brendon McCullum set to arrive in the Caribbean shortly after the second one-day international.
"He's obviously been the vice captain in the test team when he was there and no doubt for the one-dayers when he's around, so I'd imagine it would be up until that time," Williamson said today.
McCullum, originally rested from the ODI series ahead of a busy international schedule, captained the Black Caps during the New Zealand summer against Zimbabwe and South Africa after Taylor was once again sitting on the sidelines due to a calf strain.
But until McCullum's arrival, Williamson is the man in charge and he's looking to improve on his losing start in the role.
"It was a shame obviously to lose in the fashion we did in the first game but I certainly enjoyed captaining that game and felt reasonably comfortable with the lads in the team and leading them in that way.
"It is nice to have a few more days of preparation for this next game and hopefully things will be a little smoother throughout the park and all the lads will know their roles etc. It's obviously a slightly longer format so it won't be as intense," Williamson said
Williamson has age-group experience calling the shots out in the middle and captained matches for Gloucestershire during the English county season and is confident he can do so at the international level.
"I think I have my own outlook at times on the game and on cricket. I think it's important you be yourself because any other way is not quite believable."
Wanting to have a captaincy style of leading from the front will put added pressure on the young batsman who has just three scores of over 50 in 22 innings - with his two centuries coming against lowly rated Bangladesh and Zimbabwe.
Not to mention he's leading a team that haven't played an ODI since March 3, which was the last match of a 3-0 whitewash against South Africa, and are arguably missing their two best players in Taylor and McCullum.
Maybe it's the exuberance of youth but he's up for the challenge.
"Leading by example as a captain for any leader in a side is the most important thing and obviously backing that up with messages that are deliberate. And having a good relationship with Rosco while he's out and the coach John Wright so everyone is on the same page and we're moving forward and improving."
He has the backing of his coach and his regular skipper is also behind him with Taylor saying he coped well with the additional responsibility in the second Twenty20, especially considering the short notice.
"He was obviously very nervous and he only had a day to prepare for it. I thought his bowling changes were very good and he went with his gut - that's quite often what you have to do," Taylor said.
"He showed promising signs and the team got in behind him."
- HERALD ONLINE