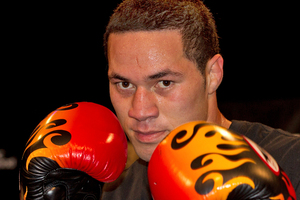 Plenty of talented amateur boxers have struggled to adapt to the paid ranks, but New Zealand heavyweight hope Joseph Parker says he is ready to take the next step.
Parker will make his professional debut against Dean Garmonsway, a 28-year-old Huntly College PE teacher, in Auckland tomorrow night. The 20-year-old Parker, who has been training under Lee Parore, was a promising amateur who turned pro last month after failing to qualify for the London Olympics.
Parore, who has trained David Tua, said Parker had lost weight while improving his power.
"It's a big step up for Joseph. He's been fighting amateurs and he's got a big reputation and all of a sudden he's going into the big arena and he wants to make his mark," said Parore.
"Joseph's like a racehorse. He's a fit young buck, but he's got to learn to take that whole work capacity to more of a composed level whereby when he gets in the ring he can change gears.
A lot of them will just go flat tack and can't change gear ... by that I mean working with your speed and your power and mixing that up and I think that's where Joseph is at now, he's made that big leap.
"This is not the amateurs, it's a different way of scoring, of approaching, of training. Everything we've talked about, you've got to take it to another level and not just physically but also mentally, emotionally."
South Aucklander Parker added: "There's a lot of things I've had to learn ... I can't wait for the fight to show what I can do."
The Parker v Garmonsway fight, which will consist of six three-minute rounds, is on the undercard to the Shane Cameron v Monte Barrett main event.
Parker is said to have a big future in the sport and has always said his style is more suited to the professional ranks than the amateur game.
- APNZ