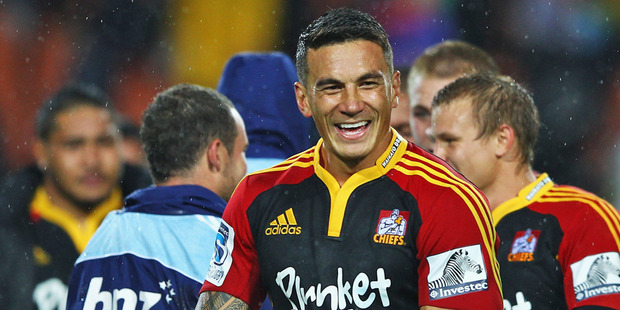 APNZ's Michael Brown looks at five reasons why All Black Sonny Bill Williams would be mad to return to switch codes once again.
1. The international game
Sonny Bill Williams wants to be recognised as one of the world's best athletes but it's difficult to do that in a sport in which only three countries are any good. Only New Zealand, Australia and England have a chance of winning next year's rugby league World Cup and, while winning world cups in two codes would be appealing, it will do nothing to help establish him as one of the greatest All Blacks.
Rugby union isn't a true global sport, either, but it is significantly stronger than league and provides more international opportunities through the Rugby Championship, Bledisloe Cup, end-of-year tours to Europe and mid-year tours by Northern Hemisphere sides. Williams has already played 17 tests for the All Blacks since his debut in November 2010. He played seven tests for the Kiwis in five years.
2. Returning to the fishbowl
Williams says he tires of the attention - which is a bit disingenuous because it's the same attention that generates his income - but it will only ramp up in Sydney. As one of the biggest names in Australasian sport, he will become one of the biggest targets of an insatiable Sydney media. If he needs any reminding, he should think about the Candice Falzon photo. Or the drink driving conviction. Or the infringement notice he received for urinating in public.
3. Money talks
It's undeniable Williams could earn plenty in rugby league but it's not like rugby is treating him poorly. He is not one of the top earning All Blacks but he could be if he continued on his upward trend. (The likes of Richie McCaw and Dan Carter pocket in excess of $1 million a year.) He could also build like sabbaticals into his contract and the rumoured US$1.5 million contract he's been offered by Japanese side Panasonic Wild Knights is an illustration of what he could earn. The New Zealand Rugby Union have also been amenable to his boxing career which is lucrative enough for him to donate $100,000 to the Christchurch earthquake appeal after one bout.
4. He was just getting up to speed
After a slow start to his international rugby career, Williams is turning into a pretty decent player. He has been the form second five-eighths of the Super Rugby competition and was excellent in the test series with Ireland. He seems to have suddenly understood how to play the game, when to offload, when to bust it up and when to go for the big hit. He is a handful for opposition defences and will only get better as he matures as a player. He has fitted in well at the Chiefs and is thriving under the stewardship of former All Blacks coach Wayne Smith. Rumours abound Williams will return to rugby after a year back in the 13-man game but it will take him time to get grips with rugby again.
5. Hate mail
People have short memories and will probably fawn over Williams again, but in 2008, soon after walking out on the Bulldogs, he was named Australia's most hated person in an annual poll. He edged out the Bali bomber, for goodness sake. A return to league will dredge that up again - and more.
- APNZ