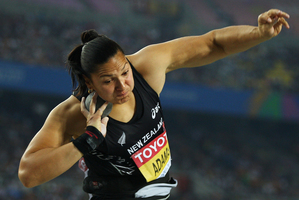 Which woman has thrown the shot put furtherest this year? The answer is: not Valerie Adams.
On May 31 in Rome, Adams seemed an unbackable favourite to defend her Olympic shot put title. She threw 21.03m, obliterating Chinese rival Lijiao Gong by 1.24m and Belarussian rival Nadzeya Ostapchuk by 1.45m. Life was bliss: Adams was thrilled to have extended beyond 21m so early in the season and New Zealanders around the collective national water-cooler could rest easy there was at least one bankable Olympic gold.

A month on and that "probable" gold medal may have been downgraded to "possible". Ostapchuk has awoken. On June 12, in a fact largely unreported in New Zealand, she produced the world's best throw this year - 21.13m at home in Minsk. The mark was 4cm better than her personal best, set almost seven years ago.
Adams reflected in a recent video diary her goal in training is "to beat me". That is an admirable sentiment but the Belarussian's progress can't be far from her mind when she's throwing a medicine ball around like a beach ball in the gym under the coaching of Jean-Pierre Egger in the Swiss Alps.
The Kirsten Hellier-coached Gong also can't be discounted, although Adams and Ostapchuk have the seven best throws in the world this year.
Adams is often cast as invincible but Ostapchuk's latest result adds a touch of vulnerability. If Adams does win, she stands to become only New Zealand's second track and field athlete, after Peter Snell in the 800m at Tokyo in 1964, to defend an Olympic gold medal.
Fortunately for Adams the 21.03m mark in May indicates her best is still within her. The 27-year-old produced a personal best of 21.24m to win last year's world championships and has shown she is an athlete for the big occasion, having been world champion since 2007.
Sadly, it seems regardless of Adams' efforts she will again fall short of the 22.41m Olympic record set at Moscow in 1980 by East German Ilona Slupianek who was returning from a ban for using steroids. The world record remains at 22.63m, set at Moscow in 1987 by Soviet Natalya Lisovskaya.
The Herald on Sunday understands Adams is spending her training downtime working on a book due for release after the Olympics.
New Zealand Olympians to defend gold medals:
Caroline and Georgina Evers-Swindell - Rowing, women's double sculls - 2004, 2008
Mark Todd - Equestrian, three-day event individual - 1984, 1988
Ian Ferguson and Paul MacDonald - Canoeing, K2 500 - 1984, 1988
Peter Snell - Track and field, 800m - 1960, 1964