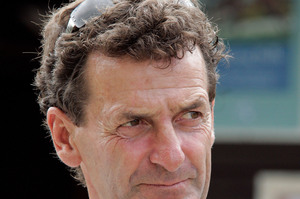 Mark Todd and Andrew Nicholson have been named as part of a five-strong equestrian eventing team to compete at London, taking their Olympic Games campaign tallies to seven each.
Nicholson and the double Olympic gold medal-winning Todd are joined by their bronze medal-winning 2010 world championship teammate Caroline Powell, Jonathan Paget and Jonelle Richards. Lucy Jackson has been named as the reserve.
It is Powell's second Olympics, while Paget and Richards are new caps.
Eventing high-performance coach Erik Duvander says the riders are capable of individual and team medals.
"All champs are slightly unpredictable and things have to go your way on the day, but the quality is there," he said.
Equestrian Sport NZ shifted its eventing high-performance programme to Britain after the 2010 world champs in Kentucky, and it is a decision that has paid dividends on many levels.
"This is a team that continues to evolve and get stronger all the time," says Duvander. "Our younger riders bring their own skills and experiences to the team and everyone mentors each other in different ways."
Todd, 56, will ride the German-born NZB Campino, an 11-year-old bay gelding. Nicholson will compete aboard 12-year-old chestnut Nereo, on whom he won individual bronze at the 2010 world champs. The Spanish-born horse has been consistent with Nicholson for several seasons and is rarely out of the top placings.
"The pinnacle for me is an Olympic gold - that is at the top of my list. If I can arrive at the Olympics with Nereo in the state he should be in, then I am confident we will be competitive with the best and in with a good chance of winning," Nicholson said.
"There are some very good combinations from Great Britain, Germany, Italy, Australia, America and the list goes on ... but I do have an awful lot of faith in Nereo."
And he's "feeling good" about the prospects for the New Zealand team.
Scotland-based Powell, 39, has her 19-year-old pocket rocket grey Lenamore, on whom she won Burghley in 2010, while 28-year-old Paget will ride Clifton Promise.
"I felt I had done enough, but nothing compares to getting that phone call from Erik [Duvander] to tell you officially," Paget said. "It's a big relief. I plan to make the most of the opportunity of riding alongside the likes of Mark, Andrew and Caroline."
For 31-year-old Richards, the selection aboard her 12-year-old New Zealand-bred bay gelding Flintstar is a dream come true.
"I feel very fortunate to have got the nod," she said. "Flintstar and I are a proven and reliable combination and I know we add a very strong fifth link to a serious team. I have been training with Mark since December, the horse is looking a million dollars and I feel everything has just fallen into place."
ESNZ chief executive Jim Ellis is confident the Kiwi team will put in a solid performance.
"This is an exciting eventing team which we hope can repeat our previous Olympic successes," says Ellis. "It has a strong blend of experience, youth and horsepower with a unique team ethic."
New Zealand have won nine Olympic equestrian medals including three gold, two silver and four bronze - 10 per cent of the medals won by New Zealand.
Todd represented the country at the Olympics in 1984, 1988, 1992, 1996, 2000 and 2008 while Nicholson received his Olympic caps in 1984, 1992, 1996, 2000, 2004 and 2008.
Todd was also selected for Moscow in 1980 but missed out because of the New Zealand boycott. He is New Zealand's oldest male medallist. He was 44 years and 203 days old when he won bronze at Sydney in 2000 and has won four Olympic medals: individual gold at Los Angeles and Seoul, team bronze at Seoul and individual bronze at Sydney.
Nicholson was part of the New Zealand team to win silver at the Barcelona Olympics in 1992 and bronze in Atlanta four years later.
The silver at Barcelona should have been gold and in recent interviews, Nicholson freely admitted the nine rails knocked down by Spinning Rhombus - he had seven up his sleeve - had haunted him.
"Basically I lost the gold medal for the team. It was a pretty tough time. I realise to people back in New Zealand it wouldn't have looked great. And I don't blame them."