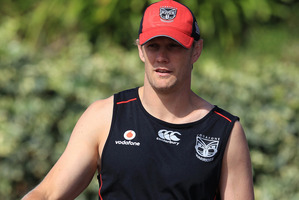 Micheal Luck is focusing on the best possible case scenario.
He's hoping the pain in his shoulder is going to subside over the next couple of weeks so he can play out his final season in the NRL.
But the workhorse Warriors forward hasn't encountered too many best-possible-case scenarios of late. His broken hand required two surgeries, the second of which kept him out of action for the first half of the season.
He doesn't appear to heal quickly these days and time is slipping away. It's hard not to wonder if the bravest of all Warriors has played his final match.
"I hope not," he said. "I hope it will settle down pretty quickly. But I'm not prepared to go on and do any further damage by masking it during games with painkillers.
"I'm not prepared to keep throwing needles in it. I just don't want to do that any more. Hopefully it's just soft-tissue damage under there and it will settle down and be right to go in a couple of weeks.
"When I can train and do everything pain- free, that's when I'll play again."
Next week Luck will visit the specialist who repaired his shoulder in December by using part of his hamstring to reattach his clavicle to his scapula. He's hoping for a positive prognosis. After all, the shoulder had been fine leading into his comeback match against the Sharks two weeks ago.
"It was always going to be tender with contact but something happened last week that made it pretty sore. I banged it up during the game and it's not right. It got to a point where if anything made contact with me on that side I had no grip strength. Blokes were going straight through me."
For one of the game's premier defenders, that scenario is unacceptable. On Sunday against the Cowboys, he missed three tackles during just 25 minutes of game time.
"There is no point being out there at half fitness when we have got guys who are fully fit and ready to go," he said.
Luck understands why people will be wondering if his time is up. He'd already seen enough writing on the wall to announce his pending retirement two months ago. There was no hiding from the fact that a frame that is slender by modern standards had taken an 11-season battering.
"I'm fully aware that that's how I've played the game. My body shape is probably not ideal for a first-grade rugby league player. But, s***, I've had a good run doing it.
"I can do everything in training except contact. But when it is time to put the boots on and whack each other, I just have to give that a rest for a while."
His place in the side to face the Titans on the Gold Coast on Saturday night goes to hard-hitting forward Steve Rapira.
Utility Pita Godinet has also been included on a five-man interchange.
The starting line-up is the same used against the Cowboys, with Omar Slaimankhel named for the first time, rather than being drafted in as a late replacement for first Manu Vatuvei and then Glen Fisiiahi.