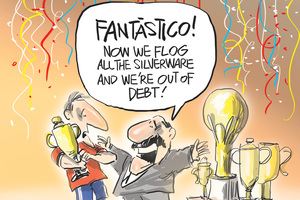 There isn't enough room here to tell you how much I love watching the Spanish soccer side.
The three As - admiration, affection, awe - go on and on, like the Spanish passing game.
In Monday's European final, they made a mockery of the malcontents who engineered arguments that they are boring.
Spain are never boring. Playing the intricate way they do takes inordinate skill and planning. England are boring. The home of the best soccer league has a team that barely strings three meaningful passes together.
Spain, via the Barcelona club, have done a research and development masterpiece on the total football prototype that Holland left on the trademark office doorstep in the 1970s. Patent Pending Holland - with big personalities and outspoken natures to this day - not only created total football, they showed how tricky it is to sustain.
Any soccer - let alone total football - is difficult when players aren't on the same page. Holland got ahead of themselves, were too confident and were left virtually empty-handed. Spain have united, and left everyone behind.
What some described as boring is utterly mesmerising to the rest of us, even on the not-so-glorious days. They dismantled France, which is nothing compared with what happened to Italy in the final.
Successive European championships and a World Cup triumph in between mark this Spanish side as legendary. In overall standard, the European tournament is of a higher quality than the World Cup.
Arguments are now being put forward that Spain are the best ever, but comparing them to teams past, like the genius days of Hungary and Brazil, is a tricky assignment.
Make no mistake, though: they are very rare and well done. Cohesive to the point of adhesive, united Spain are as unusual as they are talented when headlines are full of monsters, whether the subjects are really monsters or not.
Spain's big manager Vicente del Bosque is a clipped, unflappable walrus, with a hound dog look.
"Congratulations to the players. I didn't really want to be the coach who wins but the coach who educates. I want to keep preparing them for the future," del Bosque was reported as saying, jowls rippling, you imagined, but ego not.
Del Bosque, who made his name with Barcelona's great rival Real Madrid, reminds me of a ticket collector with no tickets on himself. Others say he looks like a favourite uncle.
If that is so, then midfielder Xavi Hernandez is like someone's nice brother. The marvellous, miraculous Andres Iniesta, the best player in this tournament, is the best mate who visits on a bicycle and celebrates with a milkshake.
The Spanish squad weave and conjure and run for ever and ever, for each other and Spain. Get the ball off them and they will keep running and swarming for each other and Spain until they get the ball back. And then you have a long wait. The miracle is how the Spanish coaches have, over the years, taken the Barcelona method and knitted players spread far and wide into the scheme.
Two sharp goals in the final finished off Italy and the boring claims. Many soccer tournaments grind to a halt, whereas Spain accelerated. Italy are notoriously hard to break down and can defend in insidious and hideous ways, but not here.
This championship has been excellent company, helped by being nicely placed alongside an early breakfast in this part of the world. We got to witness history, the crowning of a golden era (even if Spain's first goal in the final was initially missed through a television transmission problem).
Despite the immense three major trophies in five seasons, no Spanish player demands iconic reverence. There is an egalitarian aura to their squad, unlike struggling France, England and Holland.
We've had Puskas' Hungary, Pele's Brazil, Beckenbauer's Germany, Cruyff's Holland and Maradona's Argentina. Spain are Spain, Xavi and Iniesta notwithstanding.
There is no one-size-fits-all in professional sport. But the Spanish way is proving enduring. The soccer boardrooms campaign about "respect" on moral grounds. Spain make the same statement on soccer grounds. Now we ask, how long will this last?