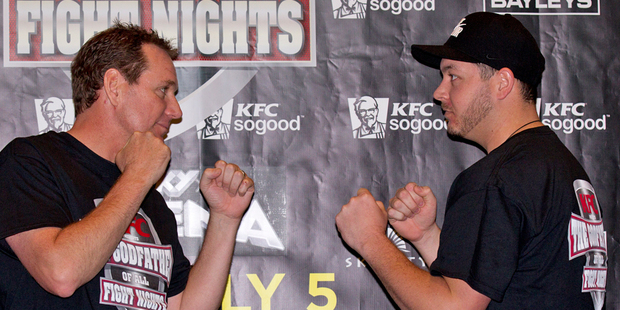 He didn't upstage motormouth Monte Barrett - few can - but cricketer-turned-part-time-boxer Jesse Ryder showed with a quip and a new physique that he feels right at home in unfamiliar territory.
Ryder is fighting talk-show host Mark Watson this Thursday on a card headlined by heavyweights Barrett and Shane Cameron. In the final press call before the bout, Ryder had the room chuckling and promoter Dean Lonergan grimacing with his reply to a stock question - any predictions on how his fight will go?
"Mark is paying $4 so I'm putting my house on him knocking me out in the first round," Ryder deadpanned.
It prompted a quick response from Lonergan: "I'm pretty sure that was just a tongue-in-cheek quip from Jesse. All of our guys up here fully understand the ramifications if they were to bet on themselves to win or lose and I'm pretty sure they're not doing it," he said.
One thing is certain for Ryder - he hasn't been fitter in his life. He hasn't drunk alcohol for more than 100 days and is down to 106kg, having lost 4kg in a little over three weeks.
How the Black Caps could do with such a fit and focused middle order batsman right now.
His number one sport has been put on the backburner following his highly publicised battle with his drinking. It's a big loss for a New Zealand team already struggling two games into their Caribbean tour, but the early signs are good that it will be a different Ryder who eventually returns to the crease.
"I'm going to continue the boxing training, just for the fitness side of things, but if other fights come about I'll definitely think about it," he said.
"Since I gave up the booze I've got so much more motivation," he added after the press conference. "Every day I want to get up and get to work.
"I want to get to under 100kg and put a few bewildered looks on a few faces."
Ryder is noticeably slimmer and his 5km running times prove his fitness. During his cricket career he would usually cover the distance on a treadmill in about 28 minutes. Now his personal best is 22 minutes 23 seconds and he is determined to get it to 20 minutes.
As for the main event, entertaining American Barrett didn't disappoint, although his performance was a slow burner.
Before answering any questions, he insisted on a theatrical thank you to his team, sponsors, sparring partners, God, fans, the gyms he has worked in and staff at his hotel.
A suggestion from Kiwi Cameron that the 41-year-old Barrett was getting slower got a rise, but it took a reference to Cameron's manager Ken Reinsfield to get him up to full speed.
"Calm down, let your fighter talk. Even though I talk my trash I do respect the kid, I know he comes to fight."
That brought Reinsfield to the top table, with Barrett's trainer Buddy McGirt following suit and joining his man.
"We have a saying in our country, you can give it but you can't take it," Reinsfield said.
Barrett replied: "Do your job, manage your fighter, don't talk for him. And stop being so emotional, there's something in the water here in New Zealand, I'm convinced. Everyone's so emotional here, just calm down."
All this after the sideshow that is the Jaime Ridge v Rosanna Arkle undercard.
Welcome to the fight club, Jesse.
- APNZ