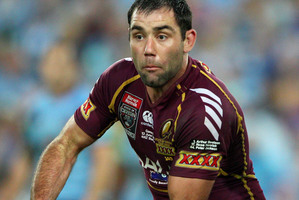 Nobody knows how to win big games better than Wayne Bennett.
Bennett coached Queensland in four State of Origin deciders and never lost one.
It goes with his perfect seven from seven record in NRL grand finals.
In Bennett's opinion, a desperate NSW will be more concerned about Queensland discovering their best form at Suncorp Stadium tomorrow night than with anything a hostile 50,000 cauldron crowd throws at them.
Like many, the Newcastle and former Maroons mentor is of the opinion Mal Meninga's men are yet to find their Origin magic.
"NSW's biggest fear will be if Queensland play at their best, not whether they can win or not," Bennett said on the eve of one of Origin's biggest battles in its 32-year history.
"If they find some of their Origin magic they can win - but they've lost some of that magic in Billy Slater."
Bennett's first series decider was an absolute classic at Lang Park, the Maroons hanging on tenaciously to win 10-8 in 1987.
He sealed the series again in 1998 when he steered Queensland to a 19-4 win at the SFS.
In 2001 he produced the greatest selection shock in Origin history, smuggling champion halfback Allan Langer back from England at the age of 34 to inspire the Maroons to a memorable 40-14 triumph to clinch the series.
His only other decider ended in an 18-all draw at Stadium Australia in 2002.
Bennett's advice to both teams in Wednesday night's monumental battle is to play smart.
"There should be absolutely no doubt in anyone's mind after the first two games that the team with the least discipline has no chance of winning," he warned.
The first two Origins have provided pivotal moments when the sin-bin has been called upon.
Queensland put on two crucial tries to win game one in Melbourne after NSW centre Michael Jennings was given 10 minutes on the sidelines.
The Blues established their winning edge in Sydney to level the series after Maroons halfback Cooper Cronk was binned for a professional foul.
"What both teams should have learned, and they should have learned before the series even started, is that poor discipline costs you dearly in Origin," said Bennett. "It's not like club footy.
"If Queensland have an advantage they've probably got an advantage in that area because they've played this brand of football for a long time."
Having been involved in many player farewells during his 600-plus game coaching career, Bennett says Queensland can't bank on the emotion engulfing prop Petero Civoniceva's 33rd and final Origin getting them across the line.
Nobody knows that better than Meninga who - unlike Darren Lockyer last year - missed out on an Origin fairytale farewell in 1994 when his coaching rival Ricky Stuart was man-of-the-match for the Blues.
Queensland skipper Cameron Smith has played six fewer Origins than his front-row pal and he rates the decider as the biggest of his Origin games.
At 28 and in the prime of his career, the Melbourne Storm hooker is well positioned to eclipse former captain Lockyer's individual appearance record of 35 Origins.
Smith, who debuted in game three of 2003, admitted on Monday his 27th Origin clash was set to be the most important of them all.
"We spoke about last year's decider [Lockyer's last game for Queensland] being the biggest game Origin has ever seen," said Smith.
"This one though is probably even bigger.
- AAP