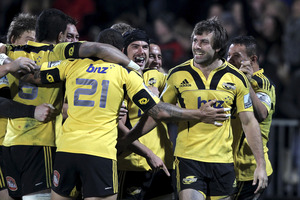 Cinderella stormed the ball in Christchurch thanks to a nice fairy godmother who looked a lot like referee Bryce Lawrence.
The rise-from-the-ashes Hurricanes caused a gigantic upset by knocking over the heavyweight Crusaders with both teams a little below full strength.
What a game, largely because of the shock result. What a result, thanks to the referee and his non-assisting assistants.
There's a temptation not to pick over the finer details that don't fit the fairytale when a medium-sized guy bowls a big guy.
But come on troops. The Crusaders were completely dudded on the obstruction front. Neither of the Hurricanes' two tries, scored by Conrad Smith, were legitimate. Both were Crusaders penalties unawarded. Lawrence either kicked the rule book into touch or was blinded by the Smith halo.
The first was a shocker. Smith used big Julian Savea as a human shield to get over the line in an illegal truck and trailer move that wiped defenders Zac Guildford and Tom Taylor out on the goal line.
Then up strolled lock Jeremy Thrush with a superb piece of strategic loitering to block Corey Flynn and Luke Romano from making or co-ordinating tackles as Tim Bateman ran behind the Hurricanes' lock to set up Smith's second try.
Put those tries through the World Cup final test, imagine the same thing happening for South Africa in a one- point win over the All Blacks, and your head space will be filled with an outcry. Lawrence's blind eye has helped mark a massive turning point in this year's title race.
Has anyone else noticed a slight trend towards using advance troops as blocks or distractions for backline moves, particularly in the All Blacks-Ireland tests? That's a grey area, though. What happened in Christchurch on Saturday was black and white.
A Sanzar explanation or clarification on Lawrence's rulings wouldn't go amiss.
TAYLOR-MADE FOR THE ABs
Israel Dagg is the fullback formerly known as untouchable in the All Blacks. Andre Taylor, the Wellington wizard, made another significant dab at forcing the selectors to reconsider Dagg's preferred status.
Dagg's top-form magic is beyond question, yet it didn't quite get out of the bag against the Irish. Robbie Robinson, who has battled to make the Chiefs' starters, produced a reminder of his former status as a junior star in the win over the Highlanders. Robinson doesn't have Dagg and Taylor's twinkle toes, but he proved a very strong runner in Dunedin. In contrast, Highlander Ben Smith remains a curious test selection judging by Friday night's match. Just what is it that impresses the selectors so much about B. Smith?
FRANKLY, SOMETHING'S AMISS
According to some members of the Graham Henry fan club during the All Black coaching debate, Robbie Deans had nothing to do with all of those Crusaders' titles and finals appearances. The Crusaders are title-less since Deans departed, and his importance to their success looks stronger and stronger in hindsight. Todd Blackadder led a band of miracle workers last year in a campaign that will never be forgotten, but he ain't no Robbie Deans.
A baffling thing to my mind is why Blackadder leaves Owen Franks, the best tighthead scrum merchant in world rugby, on the bench. His brother Ben is decent in the scrums and very active around the field, but Owen Franks would have demolished and demoralised the Hurricanes pack.
There is a lack of hard-nosed test-type attitude in how Blackadder uses the Franks.
HAMSTRUNG HIGHLANDERS
The Highlanders' parts are more impressive than the sum. Jamie Joseph has done a fabulous job of promoting players into the All Blacks on limited resources but the season is fading again. The Highlanders are a tough side, but the limitations were obvious against the Chiefs who were not at their very best.
ALIVE AND NOT SO WELL
The Warriors live to fight another day. They dealt to a depleted North Queensland Cowboys - eventually - by producing patches of terrific attacking football. The season remains alive, but only just on their overall form from the past five NRL rounds.