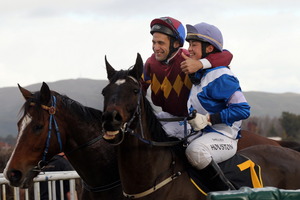 Yes, we saw the excitement of a steeplechasing dead-heat.
And, yes, we saw the on-horseback hug between the winning riders Richard Eynon and Shelley Houston.
What we didn't see were the tears Houston shed.
Why nobody knows, but the Cambridge horsewoman was embarrassed about having a little weep out on the track when the thought of victory in this particular race brought back a flood of memories.
A little emotion never hurt anyone.
Most of the tears were for Houston's ill-fated old mate Climbing High who carried her to two Hawkes Bay Steeplechase victories, a stat that would have read three but for a "stuff up ride" - Houston's own words. She had previously won the race on Primo Canera.
A lot of drama unfolded in the 90 seconds after Volkswagin and Eynon and Houston on Penstar flashed across the line locked together at the finish of 4800m and 21 jumps.
First, Houston appeared to give a victory salute with her whip, which she claims she didn't.
"I was still hitting him past the finish and I turned my body to ask Richard who he thought had won. I said to him: 'What the bloody hell ...' Neither of us knew."
Houston was riding so hard for her life and for victory that she had her face buried in Penstar's mane and didn't see where the winning post was.
"As I pulled up the memories flooded back to me and I got very teary-eyed. I had to deal with it before I came back (to the birdcage)."
The two horses and riders were alongside outside the birdcage gate waiting for the judge's call.
Eynon said: "Can we hug yet?" (Jockeys are not meant to touch before weighing in).
"Don't know," replied Houston.
"To hell with it," said Eynon, a massively talented and relaxed rider. The racing embrace of the year was made.
Shelley Houston deserved her part in the shared victory on a horse she says suffers badly from confidence problems. "Climbing High would plough through a fence and botch it and couldn't have cared less. This bloke bombs one and feels the pain and doesn't want to do it. He's very sensitive."
Houston went out on Saturday not knowing what to expect.
"At Manawatu last time he'd had three teeth cut out before the race and for most of the first lap he wouldn't grab the bridle because he thought his mouth would hurt.
"I wasn't sure how much of that he might remember and I thought he might get outpaced on the firm track we had this time."
For the first lap and a half the pair did. But Houston worked Penstar from a tailed-off position to be right behind the small field on the home bend before making the bold decision that won her half the race.
Four horses were across the track approaching the last fence and Penstar, in behind, would have lost valuable ground had he gone either side of the quartet to get clear running.
Instead, Houston pushed Penstar between The Fox and Shaun Phelan and Better On Top and Richard Culley. No quarter is asked for or given in these races and Penstar managed to squeeze through and challenge. If either opposing rider had got tough, Penstar would have been unsighted into the fence and may have fallen.
"It had to be done - I couldn't have won otherwise," said Houston yesterday. "He's such a game little bugger, it was a gallant effort for such a little guy."
Volkswagin had the race won until the last few strides and Eynon and trainer John Wheeler were philosophical.
Eynon is now based in Victoria. He flew over for Saturday's meeting and within one hour of the Hawkes Bay Steeples was at the airport preparing to fly back to Australia to ride at yesterday's Warrnambool races.
"It's going pretty well for me over there," he said. "Every track rides differently and I'm getting to know to ride each one of them well."
Decent numbers are preferable for betting levels, but the Hawkes Bay Steeples proves these are unnecessary for drama. The six runners could not have made a more exciting race.
Earlier, Morpheus did a marvellous job of completing a winning treble in taking the Hawkes Bay Hurdles under a tough 69.5kg.
Novice jumper Yourin started favourite, but Morpheus under his big weight proved too strong.
Batatius looked a real up and comer in winning the maiden steeplechase for Wheeler and Eynon.
HB STEEPLES
* Six horses provided a remarkable spectacle
* To dead-heat after 4800m and 21 jumps is massively long odds
* Volkswagin and Penstar deserved their share of the glory.