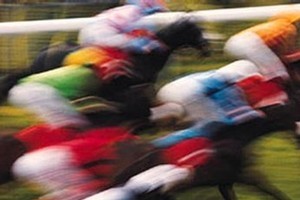 Spring carnival plans are back in play for talented stayer Shenzhou Steeds after he careered to victory in the A$200,000 ($255,000) Caloundra Cup at the Sunshine Coast on Saturday.
Shenzhou Steeds, favourite at $3.80, powered to the line seven lengths clear of Anudjawun ($4.60) with Winmara ($8) 2 lengths away third.
Trainer Mike Moroney admitted he was surprised at the dominance of Shenzhou Steed's win and he will reassess his goals for the 4-year-old.
"Initially my idea was to run him next in the Grafton Cup then give him the spring off and look at Sydney in the autumn," Moroney said. "But the way he won that race I haven't completely closed the door on the spring with him.
"It's certainly given me a bit to think about so I'll mull it over in the next few days before I make a final decision."
The A$150,000 Grafton Cup (2350m) on July 12 remains a tempting race for Moroney to chase if he decides to extend the current campaign of Shenzhou Steeds.
"The concern if he runs at Grafton is what weight the handicapper will give him after he won today by such a big margin with 58kg on his back," he said.
Moroney is staggered by the improvement in Shenzhou Steeds since he arrived unheralded from New Zealand a year ago.
"When he arrived here last year we couldn't get him to eat but this year he's really improved out of sight," Moroney said.
"Looking at him now, he's much stronger and his mental attitude is a whole lot better than it was a year ago."
Jockey Eddie Wilkinson was impressed by the way Shenzhou Steeds was able to accelerate through the heavy going.
"He travelled kindly all the way and when we straightened up he was full of running," Wilkinson said.
"The way he hit the line was really impressive considering how heavy the track is."
Trainer Shaun Dwyer is leaning to the Grafton Cup as the next start for Anudjawun, rather than backing up in next Saturday's Queen's Cup at Eagle Farm.
"My gut feeling is the Grafton Cup might be a better option with the 12 days between runs," Dwyer said.
Stewards have adjourned an inquiry into a fall which saw Glen Killen dislodged from Crosscannons near the 600m.
Chairman of stewards Wade Birch said Killen was complaining of soreness in his legs.
- AAP