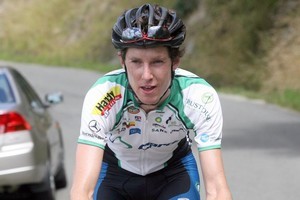 Promising New Zealand cyclist Michael Torckler is in intensive care with 20 fractures to his face after a hit-and-run accident in California yesterday.
Torckler was rushed to hospital in critical condition, after apparently being struck head-on by a vehicle while training on his own in Santa Rosa, an hour north of San Francisco.
The 25-year-old New Plymouth man is currently under sedation in intensive care to enable bruising and bleeding to subside, but he faces major surgery in the coming days.
Torckler's father, Brohn, and his wife, Linda, are flying to the United States this evening. Brohn said he was confident that Michael would be able to recover from the accident and achieve his goal of competing in cycling's Grand Tours.
"If anyone's going to recover from something like this, he's the guy."
Torckler rides professionally for New Zealand team Pure Black Racing. Pure Black business director Greg Cross said members of the squad were by Torckler's side in the hospital.
"Michael's a hugely talented young cyclist," Cross said.
"He's proven to be very resilient and a tough character.
"We're hopeful he pulls through this as quickly as possible."
- APNZ