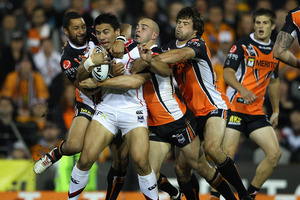 He has proved his mettle as a defensive centre - now Ben Henry hopes to add a genuine attacking element to his game.
Henry was a surprise choice in round one against Manly but has since made the left centre spot his own, appearing in every game of 2012.
His improvement was rewarded with a contract upgrade last Friday, which included an extension to the end of the 2015 season.
After a rocky start to his NRL career, Henry has helped to solidify the previously problematic left edge with his workrate on defence but questions linger over his offensive abilities, something he wants to rectify over the rest of the season.
"It would be good to do more in that area," Henry says. "It is something I want to work on."
Henry knows there is plenty to focus on, from sprint training to improve his speed, to developing his sidestep and becoming more polished at setting up his wingers.
He is not ready to become the next exponent of the Matt Gidley flick pass but is open to widening his skill set.
"I like to try different things at training before I actually do it out on the paddock," says Henry. "It is all down to confidence. If I can get confident with something at training, then hopefully I can take it on to the field and do something that helps the team score points."
"With Ben, there is no frills, no fuss," says coach Brian McClennan. "But he is getting better offensively. He doesn't get a hell of a lot of [try scoring] opportunities but I am picking more chances for him."
Statistics don't always paint a full picture but in this case they are illustrative.
His offensive figures are modest. He has scored four tries (20th among NRL centres), made three line breaks (32nd) and racked up 14 tackle breaks (34th).
In contrast, centre partner Konrad Hurrell has dotted down eight times (fourth of NRL centres), made eight line breaks (fifth) and amassed 47 tackle breaks (seventh).
But Henry's work without the ball is outstanding; no centre in the NRL has made more tackles this year (he is averaging almost 22 per game) with minimal missed and ineffective tackles.
In that way, he continues a recent Warriors tradition of rock-solid centres, more about grit than glitz. Think of Simon Mannering, Lewis Brown, Shaun Berrigan, Brent Tate and Tony Martin.
The last genuine game-breaker in the threequarter line (before Hurrell), was probably Clinton Toopi, when he was at his peak in the early to mid-2000s.
Henry knows his limitations and understands there will always be critics and doubters but looks around him for support.
"Whether [the fans] do or don't accept me, I can't control," says Henry.
"I love playing with these boys and I hope they love playing with me. What I can do for the team is all I am worried about."
"He keeps getting better every week," says McClennan. "He does everything right in training and that's why we keep picking him. We don't know when it is going to stop."
Henry's stay in the backline may not last beyond 2012. Dane Nielsen's arrival, allied with the return (hopefully) of Jerome Ropati, should see the 20-year-old return to the pack, armed with a whole new set of skills.
"I came to the club as a second-rower and it would be good to go back to the forwards - though I am enjoying the challenge of centre," says Henry.
"In the end, Ben is more than likely going to end up being a backrower," says McClennan. "But this experience is going to hold him in really good stead for his development. At the moment, I'm more than comfortable to see him run out at centre for us."
Today's match against a much-weakened Cowboys outfit is a must-win for the home side, who failed to take advantage of the same Origin-induced scenario against the Sharks and Tigers.
History is on their side, as the Warriors have won 11 of 16 matches between the two on New Zealand soil, including five of the last six clashes at Mt Smart Stadium.