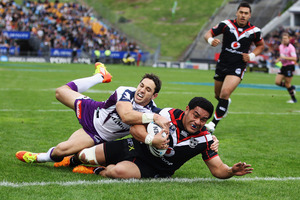 It's time for you, the Warriors, to start your run for the playoffs, which must see you win at least seven of the remaining 10 games to obtain a home spot for the qualifying semifinals.
Is it possible? Yes.
Is it probable? No, if current form is an indication.
I said the same about you this time last year and you slapped me around for a 10-week stretch to eventually finish sixth.
Is this the cue to rally again and prove a critic wrong? I hope so.
At this stage, I am presumptuous in forecasting you will not make the top four. However, you have five home games, including today's against the North Queensland Cowboys, and it is hoped you win all of these.
Then five away games, with the Titans and Broncos back to back; the next away games see you at Brookvale Oval against Manly, Dairy Farmers to again combat the Cowboys and then the Dragons in Wollongong.
None of the away fixtures are easy even on your good days. You must win two of these to make the eight; three to guarantee a home playoff game.
Of the away fixtures, the Titans will be a win and your record against the Broncos is good, similar to that against the Storm. On the back of this scenario, the NRL will be accommodating the Warriors in the playoffs. This sounds easy, doesn't it?
Well, the worrying aspect is the teams you are expected to win against, given they are below you on the table. The Titans, Knights, Panthers and Raiders are not contenders any more and only nuisance teams to those striving to make it. This is where it can come unstuck, because the nuisance team, knowing their opposition must win to stay alive, all of a sudden becomes dangerous.
They have just as much motivation to win, as the fixture has significance. The two danger teams are the Panthers and Raiders.
Obviously these games will not be a problem if every game from today is a win. But to expect a 100 per cent win record from now until then is stretching it a little.
The Warriors have only once this season been able to string back-to-back wins, to the Broncos and Roosters, both at Mt Smart. They have a 4-3 home win ratio and 2-5 away win ratio.
If you cannot win consistently by whatever means you have been preparing up till now, then please do it for your fans who regularly turn up to your games.
Do it for those who defend your honour and their loyalty against the people who seek to condemn them for such loyalty. Show them their support of you is justified.
Is this enough for you to prove this columnist wrong? Once again, I hope so!