He's walking away from the All Blacks. Where's he going? And when?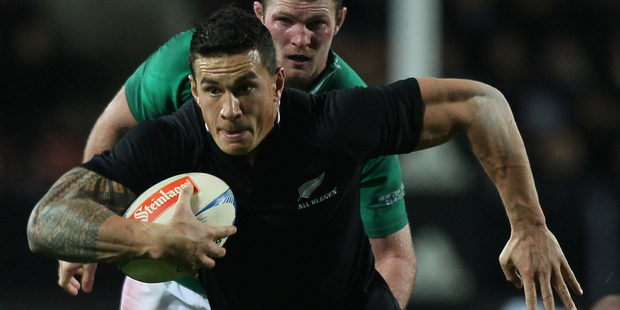 Sonny Bill Williams has almost certainly played his last All Black test in 2012 but there is genuine hope he may rekindle his rugby career in 2014.
The Herald on Sunday understands that Williams will almost definitely not feature in the Rugby Championship - meaning his stunning effort in Hamilton against Ireland may in fact be his last act in international rugby.
The 26-year-old will shortly announce he has signed a one-season deal with Japanese club Panasonic Wild Knights and will then shift to the NRL - most likely with the Sydney Roosters - in early 2013.
There are strict registration rules in Japan and the New Zealand Rugby Union is awaiting confirmation that Williams will have to report for Knights duty by August 30.
Last year, Mils Muliaina, Brad Thorn and Ma'a Nonu - who had all signed with Japanese clubs - were granted exemptions to arrive after the deadline so they could fulfil their World Cup obligations.
Williams is unlikely to either seek or be granted similar dispensation. Given that he'll play a full campaign in Japan - September to February or March depending on whether the Knights make the playoffs - then get straight into NRL action while trying to fit in more boxing bouts, he has indicated that he'll take some rest after Super Rugby before shifting to Japan.
There remains an outside chance that Williams will make himself available for the All Blacks' opening two Rugby Championship games - the back-to-back encounters against the Wallabies on August 18 and August 25 - and then it would be up to coach Steve Hansen as to whether he is willing to accommodate the midfielder.
Williams has been in stunning form for both the All Blacks and the Chiefs and the temptation to include him in those Wallaby clashes will be strong, should he be available.
But the expectation at this stage is that Williams' All Black career is over for now which was partly why Hansen chose to rest Nonu in the June window.
There was some confusion around the decision to select Nonu but not play him and even allow him to go home in the latter part of each week.
The selectors had been alerted to the probability of Williams' situation and they knew that for the Rugby Championship, Nonu was likely to be their only available experienced second five.
Having spent 18 months playing without a break, Nonu needed a chance to recuperate and recharge before he takes on what will be a major workload for the All Blacks throughout August, September and October.
When Williams played so well, hope grew that he might be convinced to forget the NRL and commit to New Zealand rugby for another year.
That's not going to happen but Williams won't commit to the NRL for more than one year. It is understood he has expressed a desire to return to the Chiefs in 2014 and be part of the All Blacks' defence of the 2015 World Cup.