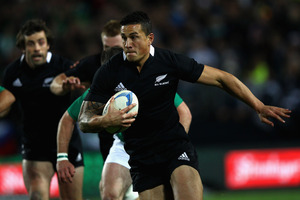 It was short, not always sweet, but the New Zealand rugby career of Sonny Bill Williams never lacked intrigue. Typical of him he has left us wanting more: his Generation Y values rendering him oblivious to the fact he's leaving just as he won over the doubters and converted the cynics.
That whole Bulldogs thing is hard to forget and, for many rugby diehards, it was pretty tough to forgive. Williams arrived in New Zealand two years ago with a mountain of ill-feeling to shift.
He got his shovel out and mostly made progress - certainly since last September, his public standing has improved. He was in danger of alienating even his most loyal fans when he threw a hissy-fit after being left out of the 22 that played the Wallabies in Brisbane last year.
But he wound his neck in quickly enough, gave all he had at the World Cup and then committed to another year and has taken his game to new levels with the Chiefs.
And that's the hard part to fathom - he's been through the pain of establishing himself here, truly got the hang of this rugby business and found himself in the test arena ... and now he's off. The nation had warmed to him, was beginning to see and believe in his potential as an All Black.
He'd won the All Black No 12 jersey, had a fair chance of staying in it for most of the rest of the season but instead he's going to give it all up and head back to a code where not everyone will be pleased to see him again.
He surely can't have forgotten that it wasn't that long ago he was voted the most hated man in Australia. A notoriously volatile element at the Bulldogs will be combustible at the thought of Williams returning to the NRL and there will be heroes throughout the league desperate to make a name for themselves by taking the Judas' head off.
It doesn't sound like it will be a barrel of laughs. The Japan deal - that's easy enough to understand: US$1.5 million for six months of pass and giggle that will afford him ample time to prepare for his boxing bouts. But the shift back to league ... when he's so settled and content in rugby?
It doesn't quite stack up, unless there is a piece of the jigsaw missing: unless there is more detail to emerge, such as a promise of State of Origin.
He's always wanted to play and what would his presence in the New South Wales team do to the interest in the series? League executives have never stood around staring gift horses in the mouth - getting Williams on the field is all that matters.
As always with Williams, the future beyond 2013 is a murky river of half promises and vague plans. The New Zealand Rugby Union are genuinely hopeful he'll be back here with the Chiefs in 2014.
He's returning to the NRL more out of some strangely noble but entirely misplaced notion he'd be making amends for walking out five years go. Give him a year in Sydney, engrossed in the code that is rooted in his soul, and it's hard to believe he'll be rushing back to Hamilton.
Bye Sonny. It was a pleasure having you, not so much your management team.