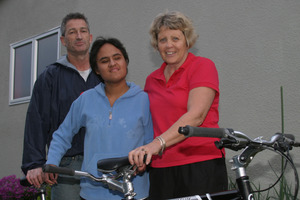 Every now and then you meet someone with an incredible attitude, and 17-year-old Unity Collins is that sort of girl.
The Te Awamutu teenager, who now attends James Cook College in Auckland, is blind. She can't wait to participate in the Tough Guy and Gal Challenge again after loving the event in 2010 and last year.
Unity will negotiate the course with her father, Ross, and mum Yvonne alongside her. The event includes plenty of challenges like swamp crossings, a spidersweb net climb, barbed-wire crawl, native bush trails, a range of natural and manmade obstacles, mud and more mud. Unity can't see any of it, which makes it even tougher, but this spritely teenager isn't complaining. She is determined to prove that she can complete the course like anyone else. We caught up with Unity and Ross, who are likely to turn some heads at the Tough Guy this year.
What do you enjoy about the Tough Guy and Gal Challenge?
Unity: I enjoy climbing over obstacles, mudslide, having to run through mud, going under the cargo net and hopefully getting a hot shower afterwards.
How do you train for this event?
Unity: I practise getting fit. I run, bike, swim and I go to the gym.
Ross: This is her third year in a row. She looks forward to this event all year. The good thing is she never comes in last place, which is special for her. She trains hard for it and wants to do well.
It must be cool doing this event with your father?
Unity: [Laughs] Like Heck. I do enjoy doing the Tough Guy and Gal Challenge with my Dad but sometimes he wants me to run faster and harder. But it's cool doing it with my Dad.
Ross, how you feel seeing Unity overcoming her limitations to compete in this event?
Ross: Bloody proud to be honest. It is quite overwhelming. My wife and I never expected a blind person to be able to compete in an event like this but Unity has never doubted herself. It is amazing to watch, she is very determined. The first time we entered the event we were a bit dubious of how a blind teenager would be received or accommodated by the organisers but they have been great. We didn't tell them that she was blind until we got there and then we helped her through it. They made a point of celebrating her effort by talking about her at the event briefing. It was pretty great to be part of that and have that support.
Is there great camaraderie at the event - do people come up to you and say well done?
Unity: I have had lots of people come up to me and say you have done really well and they talk to me about the event. They say to the people who run the event that they are really inspired by me to try it. Some sponsors have given me prizes because I am the only blind person to do this event, which is really cool.
Ross: She does get a lot of people coming up to her and saying well done and that she is an inspiration. Those pats on the back the whole way around the course from her fellow competitors mean a lot to her ... It is a wakeup call to all people who aren't pushing themselves to what they are capable of when they see a blind person putting themselves out there.
How hard is it with being visually impaired?
Unity: It is easy because I can feel, and having a ribbon tied to my Mum or Dad helps. We talk to each other going over or through the obstacles. The hardest parts are walking the planks and the wire rope. Last year, climbing the big wall I split my pants.
Ross: It is not an easy event for people who can see. There are a lot of obstacles but Unity feels her way and we have a ribbon on her just to guide her. We don't help her much at all. There are a couple of planks that are [30.5cm] wide so we assist her on that for her safety. What is it like when you hit the mud when you can't see it?
Unity: Not that great, especially when you are trying to talk and you have a mouth full of mud and water.
What other events do you do?
Unity: I compete in Special Olympics swimming, tandem biking, some biking events, play squash with Mum or Dad and go to the gym.
What advice do you offer other visually impaired athletes?
Unity: Just have a go at it and you'll get somewhere. It's wet and cold and hard in the mud, but it is a lot of fun.
Ross: I think her attitude sums it up, really. In the first year a helper offered to help her over one of the big walls. She told him in no uncertain terms, "I can do it myself" and that was that. She shows that you can do anything with the right attitude.