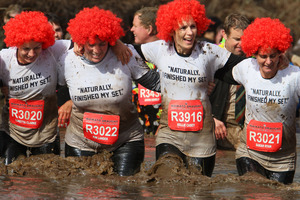 It's all about mud and mayhem, and it's a challenge not to be missed for teams or individuals.
The Burgen Tough Guy and Gal Challenge is celebrating its 10-year anniversary in style around New Zealand over the next two months.
More than 42,000 competitors have enjoyed the mud and mayhem of the one-of-a-kind event in the past decade.
To mark the milestone the organisers are expecting 12,000 competitors over the seven events.
After 500 participants got down and dirty at the first event in Wellington on June 16, it is Auckland, Palmerston North and Rotorua's turn.
On July 7 and 8, 3000 athletes of all shapes and sizes will fight it out in the Auckland Tough Guy and Gal Challenge at Woodhill.
While it is serious for some, the challenge is geared for those who generally use fitness for leisure and entertainment.
It has attracted six members of the Breakers basketball management team and a host of Breakers Academy players.
Former Breakers and Tall Blacks rep Michael Fitchett said that after a busy season - in which they managed historic back-to-back Aussie NBL titles - the Tough Guy challenge was perfect for their team.
"We had heard that it was a fun event to take part in from Mike Kelly at Event Promotions, who had helped us out during the season," said the 29-year-old. "It gave us a fitness goal to work towards after the hectic Breakers season."
The challenge is open to male and female competitors aged 13 and older. The event includes plenty of challenges such as swamp crossings, a spider's web net climb, barbed-wire crawl, beautiful native bush trails, a range of natural and manmade obstacles, mud and more mud.
"We are expecting the run to be very tough, especially in the cold, wet mud," said Fitchett.
"We have a very steep hill right next to work, so we have been up and down the hill a couple of times a week to get ready. Of course, attendance at these sessions has been varied."
Many of the Breakers team, with the exception of a few members of the off-court team, have competed in elite-level basketball. But running through a muddy obstacle course is a whole new test.
"Basketball is a very stop-start, explosive sport so this will be a different challenge, with hopefully the constant motion of a 6km run. We are hoping there will be enough mud that we can slide through a few hundred metres of the course."
It will be a great team- building exercise which has been a big part of the Breakers' success story.
"The 'one team' philosophy of the club is not just for the guys on court - it goes from the owners to the players to the staff, and down through the volunteers," said Fitchett.
"Having everyone involved and engaged in getting the results we are after has been a massive part of our success."
And it wouldn't be an event without competitive rivalry.
Judd Flavell, Breakers assistant coach and head coach of development, has promised that he will do next year's event in a Speedo if any of the team beat him.
The Breakers team is one of many alongside the likes of a New Zealand Triathlon representative in Wellington, and teams of firefighters, police and army personnel who are competing for the Service Trophy in Palmerston North.
Murray Fleming, of Event Promotions, says the challenge is all about having fun, keeping active and being social. "It's high energy but not necessarily hardcore."