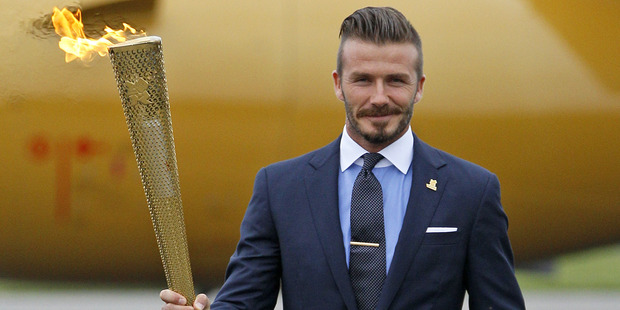 Biggest Olympic news from yesterday? No Becks for Britain's tilt at soccer gold.
In purely footballing terms this should be no big deal.
David Beckham has been playing second rate soccer for some time in the United States, he's 37 and having him in the squad would have been a sop, and nothing remotely to do with picking a gold medal-winning group of players.
Beckham didn't take it well, evidently. "Stunned" appears the word used most extensively to describe his reaction, according to "friends". And here's the funny part; the word is he's lost out to Ryan Giggs, his former Manchester United teammate, who is 38.
The point being, if he is named, when the squad is released next week, remember Giggs is still playing at the highest club level in the game.
But Beckham has been integral to Britain's Olympic push so Lord Coe, chairman of the organising committee, has vowed to get him a prominent gig within the jamboree.
It's sure to be that sort of ambassadorial role that Beckham seems well suited to.
Beckham's anticipated selection was down to hype. Things would have got exceedingly silly if he'd been chosen.
Now the football - such as it is, given we are talking about an under 23 tournament which is a joke at what is supposed to be the greatest celebration of top level sport - will at least have a chance to talk rather than be drowned in Posh and Becks nonsense.
Another puncture for those preparing to ramp things up in the next week happened at Wimbledon yesterday when Rafael Nadal was bumped out by an unknown Czech Republic player Lukas Rosol. It was Nadal's worst Grand Slam defeat in seven years.
The Spaniard has won two of his 11 Grand Slam titles on the Wimbledon turf. I think his, albeit temporary, demise from the finals stage is no bad thing. It would be a boring old sporting world indeed if favourites contested all the finals on offer.
Apparently the unbeaten Germans were a shots eye on to play world champions Spain in the Euro 2012 final in Kiev on Monday.
Nobody told the Italians, who can play an unlovable type of soccer, and have another off-field scandal enveloping their domestic game, but seem to thrive in times of adversity, and in Mario Balotelli possess a player capable of hype-busting moments.
The Germans didn't see him coming. Actually the Italians might have raised an eyebrow too, as the exotic, often outrageous but hugely watchable Balotelli burst the German net with his second goal, a howitzer of a shot which effectively decided the semifinal yesterday.
Another one in the eye for the hypesters.
But stand by because you ain't seen nothing yet. Wait until Wednesday night.
You'll witness grown men jibbering at Suncorp Stadium as Queensland and New South Wales scrap out the deciding State of Origin match in Brisbane.
Count the number of times you hear the word "greatest", or similarly overblown adjectives that night.
One outspoken commentator will stand by a set of goalposts, in a slightly ill-fitting suit if he's true to recent form, and as a camera circles him, will spout cliched nonsense about the importance of the night, when men stand tall, shoulder to shoulder, not giving an inch, brothers in arms against the greatest enemy until they can give no more, etc etc.
Actually the footy's been pretty bonzer. The spruikers should let it talk for itself. Shame about the blather.