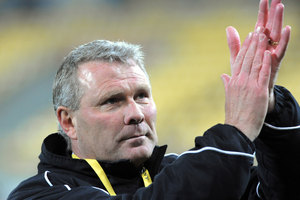 A striker is at the top of coach Ricki Herbert's wish list as he puts the final touches on his Wellington Phoenix roster.
Herbert hopes to soon add another player to challenge for a regular starting spot up front.
"We're looking at somebody overseas at the moment, another player up-front to come on loan. We're kind of close now, but we'll see. Within the salary cap we've still got x amount to spend, whether it's him or somebody else we'll probably chase somebody in that area."
Ricki Herbert says they also need to fill a couple of under-21 places, one of whom could be a player from Uruguay who they'll trial later in the week.